The GOP Goes in Search of Non-White Faces
By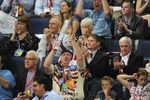 Make nice with blacks, Hispanics, and women. That's been the Republican party's mantra ever since Mitt Romney's loss last November, and today at the Republican National Committee's summer meeting, leaders unveiled one way they'll make it seem as if they're following through.
The GOP is launching a "Rising Stars" program, a slate of new spokespeople who have young or non-white or female faces that look nothing like those who make up the party's current base. Marilinda Garcia is a 30-year-old Hispanic state representative in New Hampshire. T.W. Shannon is the first African American speaker of the Oklahoma House of Representatives and an enrolled member of the Chickasaw Nation. Karin Agness is the founder and president of the Network of enlightened Women (NeW), a conservative organization she launched while in college a decade ago. (OK, there is one white guy, Scott G. Erickson—a San Jose police officer who writes a blog for the Heritage Foundation.)
The Associated Press reports that the four made their official media debut today at the RNC gathering, "the first of many high-profile appearances designed to help the party shed the image that it is too old and white. Republican officials have long fought that stereotype, but RNC communications director Sean Spicer says this time will be different. 'We have the resources and the bandwidth to be able to actually promote these people,' Spicer said."
The program is part of a bigger switch in PR tactics—the party wants to encourage stories in the press that focus "on demographic groups instead of geographic regions," the AP says. To do that the RNC will keep an online database of real people its flacks can tap any time a reporter is looking for a quick quote. "For example, an RNC spokesman said the tool could quickly locate a female Hispanic mom from New Jersey for a relevant media interview."
Clearly party leaders are doing everything they can to seem more inclusive and attract a wider group of voters. Less clear: how Republican voters will respond to the effort.
Senator Marco Rubio, the Cuban American Florida Republican who put his conservative credentials on the line by leading the Senate's immigration reform proposal with New York Democratic Senator Chuck Schumer, is getting shunned by his base over the issue, according to Michael C. Bender at Bloomberg News. "It's like he went out and committed adultery on us," one of Rubio's supporters told Bender. "He's got to earn our trust again."
Before it's here, it's on the Bloomberg Terminal.
LEARN MORE