Study: U.S. Business Students Lag Others in Entrepreneurial Spirit
Louis Lavelle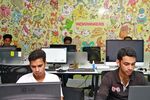 U.S. business school students have a reputation for being entrepreneurial, but new research suggests they're among the least entrepreneurial in the world.
Universum, a New York-based branding outfit, surveyed nearly 135,000 business majors globally, asking them what they would most prefer to do post-graduation, giving them eight options from which to choose one. In the U.S., 7.24 percent said they want to start their own business, and 3.38 percent said they want to work for a startup, for a total of 10.62 percent who showed a case of startup fever.
It's a low-grade fever at best. The U.S. ranked 16th out 23 countries on the combined total (see the complete list below). It was 12th for students who want to start their own business and 18th for students who want to work for a startup. At the top of the combined list: India, the U.K., and Mexico.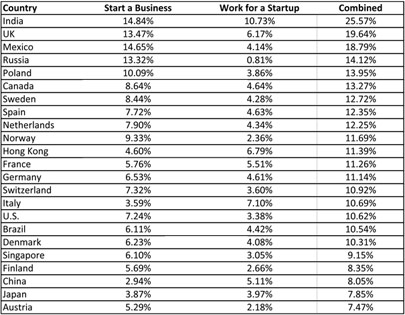 Petter Nylander, the chief executive officer of Universum, says three things explain the findings, the first one being the importance of work-life balance to U.S. students. Universum research has found that 61 percent of U.S. business majors say work-life balance is their No. 1 career priority, far below things including job security, challenging work, and leadership opportunities. In Asia, far fewer business students are worried about such things—just 41 percent in China and 37 percent in Japan.
Another reason for the lack of entrepreneurial get-up-and-go among U.S. students, Nylander says, may be their parents. Helicopter parenting among the Millennial generation never really caught on in other countries to the extent that it did in the U.S., where, he speculates, Mom and Dad may be pushing more students into safer careers with established companies.
Nylander also says that U.S. business students, unlike their counterparts in some other countries, are bombarded with pitches from established companies trying to recruit them. And the pitches, which often emphasize things like work-life balance, can be hard to resist.
"When we talk to students in the U.S., they want to start their careers in a big company," Nylander says, noting that many students intend to delay the entrepreneurship phase of their careers until they're older. "In emerging markets where there are less opportunities, they're thinking about this from Day One."
Join the discussion on the Bloomberg Businessweek Business School Forum, visit us on Facebook, and follow @BWbschools on Twitter.