Should Retailers Expect Bank Refunds From the Swipe-Fee Lawsuit?
by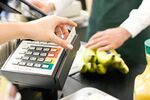 Owners of coffee shops, convenience stores, and other Main Street businesses should take heart in a pair of recent utterances by U.S. District Judge Richard Leon. Last month, Leon ruled that the Federal Reserve acted incorrectly when it let banks charge as much as 21¢ for each debit card transaction. Yesterday, Leon suggested that banks may owe retailers refunds.
The long-running battle over swipe fees is often construed as a fight between big banks and big retailers. Small businesses, particularly those that depend on selling lots of low-cost goods—lattes, say, or candy bars—also have plenty at stake. What should small business owners know about the current state of the court action?
The roots of Leon's decision last month trace back to the Durbin amendment, a rule in the Dodd-Frank financial reform law that directed the Fed to cap swipe fees at a rate that was "reasonable and proportional" to the costs banks incur processing the transactions. The Fed considered limiting swipe fees to 12¢ before settling on the 21¢ ceiling that took effect in October 2011.
Business groups, including the National Retail Federation and the National Restaurant Association, sued the Federal Reserve that year. Leon's ruling sets the stage for lower rates, and sooner rather than later. The Fed has 60 days from the initial ruling to appeal. In the meantime, Leon said yesterday that he wants the Fed to describe a plan for rewriting the swipe-fee rule next week. He also indicated that a new rule should take effect in "months, not years."
What of these refunds? Leon said yesterday that "there's a number out there somewhere that represents the amount of overcharge," and asked lawyers from both sides for briefs arguing whether retailers should be reimbursed. Overcharges may run into the billions, though it's unclear what portion would belong to small businesses—or how long it would take owners to collect.
Before it's here, it's on the Bloomberg Terminal.
LEARN MORE