Cue the Swelling Music: 'Jobs' Worships at the Altar of Steve Jobs
By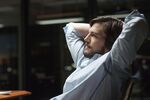 In the 1980s, Hollywood thought nerds were funny. Thirty years later, Hollywood thinks nerds are important.
This started with the David Fincher-directed The Social Network, a movie that was better than it probably should have been, because it transcended its subject matter. This was not a movie about the founding of Facebook as much as it was a movie about ambition, loyalty, class, and ego. So what if it deviated from the facts of what actually happened between Mark Zuckerberg and Eduardo Saverin—it never purported to be a documentary, and Fincher and screenwriter Aaron Sorkin took that license to make a better movie, which was ultimately more important.
This isn't the case with Jobs, the new biopic about Apple's co-founder that stars Ashton Kutcher. Like The Social Network, it focuses on a narrow slice of history—the period of Steve Jobs's life between dropping out of Reed College, through the formation of Apple and his subsequent ouster by the board, to his triumphant return in the late 1990s.
"Triumphant" is a word that can be used a lot when watching Jobs. While the movie can't ignore that Jobs had a reputation for being a pretty mean guy when he wanted to be, it treats his many accomplishments with a reverence that's so out of proportion it becomes ridiculous. Much of this has to do John Debney's score, full of sweeping orchestral maneuvers and punctuated by chords of deep significance. It reminded me of Glory, and suffice it to say that what works for a charge against a Confederate fort and certain death seems too much for, say, the first time Jobs drags a folder icon into a virtual trash bin.
There are some performances in Jobs that do the best with what they have. Dermot Mulroney plays Mike Markkula, an early Apple investor, with a trustworthiness and winning grit. Matthew Modine sells John Sculley convincingly as a well-meaning-but-out-of-step patrician. Unfortunately, the key man in this movie is Kutcher, and this is where things fall a bit flat. Kutcher clearly spent a lot of time learning the physical and verbal tics that helped define Jobs, but he spends so much energy nailing the specifics that the other side of the equation—acting—gets ignored. Sure, Kutcher has the loping gait and particular hand gestures that will be familiar to anyone who's met Jobs or watched him closely, but the movie would have been better with a little less impersonation and a little more character development.
In some cases, that's not Kutcher's fault. The director, Joshua Michael Stern, includes scenes that telegraph more than insinuate. If Jobs has had a bad day, you see him drive his car fast, at night, grimacing (this happens twice). One of those times he actually screams into the night, just to drive the point home. When Jobs has an LSD-fueled inspiration during those post-college years, he spins around in a field of grass for far longer than is necessary. When he shaves his beard, it's like Schwarzenegger's putting on the combat paint in Commando.
Had Jobs been slightly more clinical and detached, it might have been able to capture the right story to tell about Steve Jobs. This is a college dropout who created the first major PC company, introduced the Macintosh, iPod, iPhone, and iPad, upended the music industry, bought Pixar—there are a lot of good stories to tell. They'd just need a smarter touch than what this movie can offer. Sorkin is already at work on a screenplay about Jobs. Unless you're a die-hard Apple fan, wait for that one.
Before it's here, it's on the Bloomberg Terminal.
LEARN MORE