Why a Government Shutdown Won't Shut Down Obamacare
By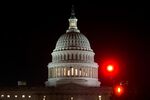 Senators Marco Rubio (R-Fla.), Mike Lee (R-Utah), and Ted Cruz (R-Tex.), along with other conservative Republicans, are using their summer vacation to call for a government shutdown come Oct. 1. That's the day a new federal budget cycle would kick in—and the same day the Obamacare insurance marketplaces are slated to open. The right wing of the party says it would rather force a shutdown than allow Obamacare to be implemented.
The stance might play well among Tea Partiers (a Don't Fund It! petition to stop Obamacare has 300,817 signatures), but Mitt Romney and Karl Rove say it's bad business for the party overall. Put aside whether it's good politics or whether there's actually a bigger problem with calling for a shutdown to defund Obamacare: It won't work.
The federal government is running the insurance marketplaces in 27 states that aren't building their own. And while the spending bills Congress can block starting Oct. 1 do pay for a lot of federal operations, they're not likely to affect the exchanges. That's because a lot of the money Congress set aside for the marketplaces was included in the original health reform legislation passed in 2010. "The threat of a government shutdown affecting the reform act is a hollow threat," says Dan Mendelson, a former budget official in the Clinton administration who now runs Avalere Health, which advises health-care companies. "It's not something that would come to fruition." A lot of the operations of the health exchanges are contracted out to private companies, and contracts awarded prior to any shutdown would be untouched. "Every decision that is made before the shutdown would stand," Mendelson says.
What's more, the Department of Health and Human Services is already proving it can keep pushing ahead with health reform amid a lack of new funding. As part of her budget request last year, Health and Human Services Secretary Kathleen Sebelius asked Congress for more than $1 billion to keep the effort going. Lawmakers said no and refused to give her the money. So Sebelius got creative and found other sources of funding, as the Congressional Research Service notes in a recent report.
This year, Sebelius is asking for $1.4 billion for Obamacare. "In the event that [Congress doesn't] provide any of these funds, or in the event of … a government shutdown, it seems likely that the Administration will continue to rely on alternative sources of funding to support ACA implementation activities," CRS writes. By not setting aside money in its regular spending bills, Congress effectively doesn't have anything to hold back. "It's ironic," says John Kelly, an adviser at Edifecs, a tech consulting company that's helping insurers connect to the marketplaces. "There's not going to be a lot missing" if the government shuts down, he says.
Threats of a shutdown might be a good way to score political points with constituents, but in reality many of the government functions that Americans rely on most—Social Security checks, food stamps, air travel—aren't stopped even when a "shutdown" is in effect. Add Obamacare to the list.
Before it's here, it's on the Bloomberg Terminal.
LEARN MORE