pursuits
There Aren't Enough Antibiotic-Free Cows for Chipotle
By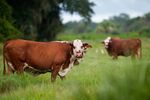 Antibiotics in your burrito bowl? Could be. Chipotle is considering bending its rules on serving only "naturally raised" beef amid a supply shortage. The company says there just aren't enough drug-free cows to satisfy our giant appetite for tortillas stuffed with steak and barbacoa.
Chipotle Mexican Grill has developed its menu—and reputation—around sustainably grown food, even committing recently to reducing its use of genetically modified ingredients. Its policy has been to purchase "naturally raised" beef (which means the animals were never given antibiotics or hormones) since 1999.
"We just need more (and it isn't there)," spokesman Chris Arnold writes in an e-mail. Last year, Chipotle served more than 120 million pounds of responsibly raised beef, pork, and chicken. In a release issued Tuesday, the chain said it currently uses "conventional" beef in times of shortage only and posts notices when this happens. Chipotle is contemplating revising its policy so that meat from animals given antibiotics only to treat illness—not to promote weight gain or prevent disease—could be served at restaurants normally.
"The supply of naturally raised beef is certainly tight," says Arnold. "So it is definitely a challenge to get everything we need, and right now, we can't get all that we need."
And it's not just antibiotic-free meat: Restaurants nationwide are facing a beef shortage. According to an analysis compiled by Bloomberg, the national cattle herd is at its lowest level since 1973. Record-high grain costs, caused by last year's drought, led ranchers to slaughter more cattle (while feed costs are low now, it takes two years for the cattle supply to recover). According to the USDA Economic Research Service, beef production is projected to decline 1.8 percent in 2013 and another 5.2 percent in 2014.
The shortage has already affected Chipotle, which has 1,500 restaurants across the country. Only 80 percent to 85 percent of beef sold there so far this year was naturally raised, compared with nearly 100 percent in 2012, Arnold told Bloomberg News.
The company explained these challenges in its second-quarter filing in July:
"One of our primary goals is for all of our restaurants to continue serving meats that are raised to meet our standards, but we have and will continue to face challenges in doing so. Some of our restaurants served conventionally raised beef and chicken for periods during the first half of 2013 and some are continuing to serve conventionally raised beef, and more of our restaurants may periodically serve conventionally raised meats in the future due to additional supply constraints. When we become aware that one or more of our restaurants will serve conventionally raised meat, we clearly and specifically disclose this temporary change on signage in each affected restaurant, so that customers can avoid those meats if they choose to do so."
Bryan Elliott, an analyst at Raymond James Financial, told Bloomberg News that some consumers expecting naturally raised beef may not be happy with the change. Perhaps the one bright spot for Chipotle: While it would prefer not to serve conventionally raised beef, at least it costs less, which has helped somewhat to offset price increases for other ingredients, such as tomatillos (for salsa), dairy, and chicken—though not enough to lower menu prices.
Chipotle customers who'd rather not take the risk could perhaps consider tofu as a backup.
Before it's here, it's on the Bloomberg Terminal.
LEARN MORE