The London Whale Becomes a Rat to Avoid Criminal Charges
Paul M. Barrett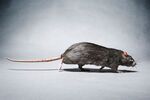 JPMorgan Chase's "London Whale" appears likely to swim away from trouble while two former colleagues face criminal charges.
The striking thing about the fraud charges unsealed today against a pair of former JPMorgan bankers is not that their alleged effort to conceal billions in trading losses produced a criminal case in the U.S. Instead, what's striking is that Bruno Iksil, the French ex-banker dubbed the London Whale and originally depicted as being at the center of the scandal, now seems unlikely to face charges.
Iksil has been talking to the FBI and U.S. prosecutors for months as part of a deal thought likely to win him immunity from criminal liability, Bloomberg News and other media outfits are reporting. More specifically, it appears as if Iksil, who earned the whale moniker because of the heft of his trading book, has helped implicate his former colleagues. All three of them were fired by JPMorgan after the largest U.S. bank revealed losses last year, ultimately exceeding $6 billion, on wrong-way derivatives bets.
One lesson from the case, then, is that when the Feds start to investigate, it can pay to be the first one to cooperate and tell your version of what went down.
Here are the basics from Bloomberg News:
Javier Martin-Artajo, a former executive who oversaw the trading strategy at the bank's chief investment office in London, and Julien Grout, a trader who worked for him, were charged with conspiracy, wire fraud and making false filings in complaints unsealed today in Manhattan federal court. The two men engaged in a scheme to falsify securities filings between March 2012 and May 2012, according to the government.

JPMorgan Chief Executive Officer Jamie Dimon characterized the $6.2 billion loss as "the stupidest and most-embarrassing situation I have ever been a part of." First disclosed in May 2012, the bad bets led to an earnings restatement, a U.S. Senate subcommittee hearing and probes by the Securities and Exchange Commission and U.K. Financial Conduct Authority. Dimon, 57, whose own pay was cut in half, pushed out senior executives including former Chief Investment Officer Ina Drew, who oversaw the London unit where the loss took place. The bank said it clawed back more than $100 million in pay from employees who were involved with, or oversaw, the trade.
In the wake of the charges, lawyers for the accused men either declined to comment or didn't immediately respond to a request for comment, Bloomberg News reported. The next question in the case will be whether the defendants, who are both said to be in Europe, will surrender to U.S. authorities, or whether prosecutors in New York will seek to have them extradited. The whale, meanwhile, reportedly continues to cooperate with the Feds.
Before it's here, it's on the Bloomberg Terminal.
LEARN MORE