pursuits
SeaWorld Swings Prices Up, Visitation Flops
By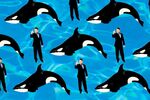 Fans of killer whales and killer water slides might not be as freewheeling as SeaWorld executives believe.
The theme-park operator swung to a $15.9 million loss in its second quarter as a public company, in part because its higher prices kept hundreds of thousands of visitors away.
With some new levers to change ticket rates dynamically, SeaWorld dialed up the average admission price at its 11 parks by 9 percent from the year-earlier period, to $38.85. Not surprisingly, it welcomed only 6.6 million visitors, about 600,000 fewer than during the same time last year. Revenue in the period slid 3 percent.
One would think the company was at least more profitable, but that wasn't the case. SeaWorld's operating margin fell from 21 percent to 8 percent, as sales and marketing expenses swelled and it hired more people to handle its initial public offering.
The pricing strategy, however, may not have been a total bust. If SeaWorld kept tickets at last year's level and managed to retain the same number of visitors (a big assumption), it would have garnered an extra $21.4 million or so in revenue. Pulling an extra $3.11 out of the smaller group of visitors, however, equates to roughly $20.5 million in sales.
Unfortunately for analysts and executives, pricing strategies never exist in the vacuum of an economic textbook—the clean tradeoff between volume and profit. SeaWorld, for example, said it lost a lot of visitors because of crummy weather, and Easter came early in the comparable quarter last year, pushing some visits into the earlier period.
Overall, SeaWorld Chief Executive James Atchison said the attendance drop hurt, but he stood by higher prices as a net positive. Only about one-third of the visitation slump was due to steeper tickets, according to the company.
"We feel good about the strategy and what it's doing for us," he told investors late Tuesday. "Having a couple fewer bodies in the park is also good for our ratings and the experience as well, and we save operating cost."
Dynamic pricing is kind of a no-brainer for theme parks. Airlines, hotels, and baseball teams have been using it to lever returns for years, tinkering with ticket rates by purchasing channel and based on a number of factors, from weather to travel patterns. But because such strategies shift so quickly, they are hard to explain and even harder to benchmark.
That was abundantly clear late yesterday as SeaWorld faced a barrage of questions from analysts trying to map the fallout from the higher prices. Wall Street, meanwhile, did not seem convinced that the strategy is paying off. As Atchison argued his point, SeaWorld shares sank 9 percent.
Before it's here, it's on the Bloomberg Terminal.
LEARN MORE