business
Libya's Oil Industry Is in Trouble
By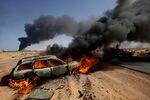 One of the most amazing things about the Libyan Revolution was just how quickly the country's oil industry rebounded from the chaos and violence of 2011. After bottoming out at only 45,000 barrels a day in August that year after having fallen 97 percent since the previous January, Libya's oil production was back near full capacity—1.6 million barrels a day, by last summer. That's a huge success by any measure.
Now, nearly two years after the death of Muammar Qaddafi, Libya is backsliding into chaos. Striking workers angry about government corruption and low wages have attacked the engine of the country's fragile economy: the export terminals and oil fields, many of them state-run, that hold Africa's largest known crude reserves. To press their demands, roving militias have begun seizing and shutting down the terminals, leading to a precipitous drop in Libya's precious oil exports, which account for practically all of the country's gross domestic product. For more than two weeks, Libya's exports have basically flatlined as all but one terminal have been shut-in.
Even more troubling is the news that production is starting to nose dive, too. This week, Libyan Oil and Gas Minister Adbulbari Al-Arusi said Libya is pumping only about 650,000 barrels a day. "A tragic situation," Al-Arusi told reporters at a news conference in Tripoli on Tuesday. Adding economic weakness to a situation of social and political upheaval is never a good sign.
At a recent event at the St. Regis Hotel in Washington, Omar Al Shakmak, Libya's deputy oil minister, addressed a ballroom of American business people who are eager to invest in Libya but wary of security issues and corruption. Asked about the recent export declines, Shakmak, along with an executive of Libya's state oil company, the National Oil Corporation of Libya, spoke about diversifying the country's pipeline infrastructure and blamed the declines on the recent retirement of a security official. Neither offered any real hope of an immediate solution.
Libya's oil is considered super high-quality—very light and very sweet, meaning it's easy to refine into gasoline, jet fuel, and diesel. Most gets shipped to Europe, where it's refined in France and Italy. Those refiners now have a decision to make: Do they draw down their own reserves in anticipation of Libya production coming back quickly, or do they find new sources of oil from, say, Algeria, which has similar grades of light, sweet crude? It probably won't be long before they start looking for alternatives.
"What's surprising is how long this has lasted and how much production and export capacity has been lost," says Julius Walker, an energy markets strategist at UBS Securities. Together with declining exports from Iraq, plus rising theft and pipeline attacks in Nigeria, Libya's turmoil has helped boost international crude prices by about $3 a barrel over the last three weeks, to just shy of $110 a barrel, says Walker.
There is hope that Libya's problems are temporary, with no reports of major damage to pipelines or production equipment in the fields. Given how reliant all aspects of Libyan society are on oil exports, Sarah Emerson, managing director of Energy Security and Analysis, a Massachusetts research firm, is looking for a sense of urgency to fix things. "I would expect forces to align themselves fairly quickly," says Emerson.
The longer it takes to restart exports, the bigger the economic hit becomes. It's hard to imagine that Libya's oil workers would be able to squeeze higher wages out of the government after they've tanked the economy. "In theory, these are issues that can be resolved," says Walker. In theory.
Before it's here, it's on the Bloomberg Terminal.
LEARN MORE