B-School Startups: Bringing MyRain to India
Elizabeth Rowe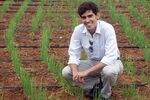 Editor's Note: This story is part of an occasional series focusing on MBAs and undergraduate business students who launched their businesses while still in school.
Starting a company and moving to India was not part of Steele Lorenz's five-year plan when he enrolled as a business student at the University of Minnesota's Carlson School of Management. "My plan was to get a law degree," Lorenz says. But the B-school's international requirement for all business students, paired with its emphasis on experiential learning, changed his world view and his focus. Today Lorenz is a co-founder of MyRain, a for-profit company that helps small-plot farmers in Tamil Nadu, India, through sales of drip irrigation kits and other agriculture equipment.
Lorenz got started on MyRain through a class at Carlson affiliated with the university's Acara program, which helps educate students for careers in social ventures. "They [Acara] help you understand a community, ask the right questions, find out what the problems and challenges are, and then work on way to solve those problems," Lorenz says. Lorenz and a team of four other Minnesota students were paired with five students from Indian Institute of Technology Roorkee to develop a business plan.
At the end of the class, students enter a business plan competition called the Acara Challenge. The contestants aren't just from Carlson. In 2010, Lorenz's year, 14 universities from the U.S. and India participated. Lorenz was encouraged to apply, and after extensive research, the team discovered that drip irrigation kits could help small-plot farmers in areas where rain is sometimes scarce by reducing the amount of water needed for cultivation while increasing crop yield. Their submission for the contest eventually became MyRain.
MyRain didn't win, but as one of four finalists, the startup did get an Acara scholarship, which paid for members of the MyRain team, including co-founder and Chief Operating Officer Sri Latha Ganti, then a master's student in electrical engineering, to go to India to refine their business plan with teammates from Indian Institute of Technology Roorkee. Lorenz was not able to make the trip.
Acara also gave the social entrepreneurs a small grant to run the pilot program. Additionally, the team raised startup capital from a group of angel investors. "We were confident that our business would work," Lorenz says, who launched MyRain in India in June 2012.
Today, MyRain sells drip irrigation kits through an independent dealer network, which maintains relationships with farmers in India. Lorenz says that for now he is focused on India, but he does want to reach small-plot farmers around the world. "The way that we think about social venturing is that we are intrinsically a social company because of the products we carry and the customer focus we have," he says. "The more drip irrigation systems we get out—it's measured in revenue, but that's also a larger impact in social good that we're having."
Toby Nord, director of Carlson's Ventures Enterprise and a co-instructor for Acara, says that while Carlson and Acara have sent a number of students to India to work in the field, Lorenz is the first to move there. "Steele was willing to go take it to India and take the risk of leaving a job and a family," Nord says. "There's only so much you can do from half a world away."
Join the discussion on the Bloomberg Businessweek Business School Forum, visit us on Facebook, and follow @BWbschools on Twitter.
Before it's here, it's on the Bloomberg Terminal.
LEARN MORE