Why the Cheap Firefox Smartphone Isn't So Cheap
by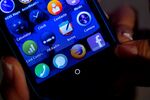 U.S. customers can now buy smartphones running Mozilla's Firefox operating system, but not in stores. Instead, Chinese manufacturer ZTE is selling the phones on eBay. This doesn't bode well for Firefox's new mobile platform, which always faced pretty long odds. And for now the online auction website has erased the phone's biggest selling point—its low cost.
As of noon Tuesday, an orange version of the ZTE Open smartphone posted on the company's eBay page was going for $160, while the black version required a bid of $170. ZTE says buyers will receive their devices late this month or early next month.
ZTE says costs will fall once it begins general sales "soon"—the company plans to charge $80 for the phones—and meantime, it's a good sign that customers are willing to pay double that. But those early adopters aren't enough to sustain a phone designed as a cheap alternative to devices running Google's Android OS (somewhat ironic considering that Google provides most of Firefox's funding).
Still, that's a logical target audience for an upstart phone platform like Firefox. The number of low-cost smartphone shipments is expected to triple by 2018, at which point it will make up almost half the overall global smartphone market, according to market analyst ABI Research.
In addition to pricing, the Firefox team is boasting that its platform is "open and free," because it uses Web-based apps rather than dedicated ones. The practical advantage is that the developers don't have to persuade appmakers to build Firefox-specific versions; the caveat is that, since phones running Android and Apple's iOS can do the same thing, this isn't a real advantage for users.
Firefox has managed to generate some buzz around its mobile OS experiment, but the phone's limited distribution could well doom it among mainstream U.S. customers. People often make their decisions about which phones to purchase by going to a store and playing around with a few different models. That's why the companies that are best at moving devices are those that invest most heavily in the retail experience.
Before it's here, it's on the Bloomberg Terminal.
LEARN MORE