Why Is the Obama Administration Trying to Stop the American-US Airways Merger?
Why a new overseer is out to stop the American-US Airways marriage
By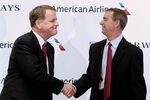 Since when does the Department of Justice block airline mergers? After years of unopposed consolidation, the airline industry faces a surprising challenge to its latest merger: The DOJ filed suit today to stop the $14 billion union of American Airlines and US Airways.
The Justice Department said the merger, which would create the world's largest airline, would lead to higher costs and hurt travelers. Six states, including Arizona and Texas, where the two airlines are based (US Airways in Arizona, American in Texas), joined the department's lawsuit. "If this merger goes forward, even a small increase in the price of airline tickets, checked bags or flight change fees would result in hundreds of millions of dollars of harm to American consumers," William Baer, a former attorney at Arnold & Porter in Washington who took over the DOJ's antitrust unit in January, said in a news release announcing the lawsuit. "Both airlines have stated they can succeed on a standalone basis and consumers deserve the benefit of that continuing competitive dynamic."
In a joint statement, American and US Airways said the department erred in its assessment of the merger and that they would mount a vigorous defense. Other airlines' stock prices fell on the news, because investors were counting on the merger to reduce capacity, which is considered key to improving airlines' finances.
The department has been notably hands-off with airline mergers. In 2008, Delta Air Lines  acquired Northwest, followed by the merger of United Airlines and Continental two years later. Southwest Airlines also bought AirTran. All those deals were approved with relatively few concessions or other regulatory hurdles.
So what's the problem now?
"If you're the first merger in an industry that's consolidating, you've got an advantage," says Robert Doyle, an antitrust attorney in Washington at Doyle, Barlow & Mazard. "If you're the third or fourth mover, then you can have a problem."
That appears to be what's snagging the American-US Airways merger, which was scheduled to close in the third quarter and mark American's departure from bankruptcy. (In a letter to employees, US Airways Chief Executive Officer Doug Parker said he hoped the deal would still get done by the end of the year.) American's creditors agreed to the terms, and US Airways' shareholders voted overwhelmingly in favor. European Union regulators have also approved. The lawsuit was filed two days before a U.S. bankruptcy court is scheduled to review the merger.
If US Airways and American do combine, the resulting Big Four, including Southwest, would carry more than 80 percent of domestic airline traffic. That concentration is likely to lead to higher fares, according to the lawsuit, and less competition on many routes. Indeed, in a report last week, Wolfe Research airline analyst Hunter Keay wrote that most large U.S. airlines currently enjoy a monopoly on at least 25 percent of their routes. Past mergers have had that effect, as airlines shift their focus from gaining market share, often via fare wars, to improving their financial returns. For example, Delta will begin paying shareholders a quarterly dividend, one of few U.S. airlines to do so.
In June, Reuters (TRI) reported that the department was pushing American and US Airways to sell slots at Washington's Reagan National Airport, where takeoffs and landings are subject to hourly limits and where the combined airline would be dominant. The airlines have consistently resisted giving up any slots at Reagan, suggesting that smaller cities would lose service if they were forced to do so. But the report suggested that antitrust officials were viewing the merger skeptically.
"The Department of Justice is saying enough's enough, the industry is consolidated," Doyle said in a telephone call along with his partner, Andre Barlow. "They're not viewing it with the same perspective as they did these prior mergers," added Barlow. "They're looking at a national market where pricing could be increased."
The other difference, according to Doyle, is the DOJ's Baer: "He's very aggressive," Doyle said, noting the agency's opposition to Anheuser-Busch InBev's $20 billion acquisition of Grupo Modelo, which was completed in June after major concessions. The antitrust division also adopted a firm stance in the Apple e-book litigation in New York, in which Apple was found guilty last month of fixing prices. In 2011 the division's opposition to AT&T's proposed $39 billion purchase of T-Mobile scuttled that deal.
BOTTOM LINE -
The bottom line: After years of looking the other way at big mergers, the government is getting serious about enforcing antitrust laws.
Before it's here, it's on the Bloomberg Terminal.
LEARN MORE