Potash Mines Imperiled in Europe as Market Braces
Gerrit De Vynck and Christopher Donville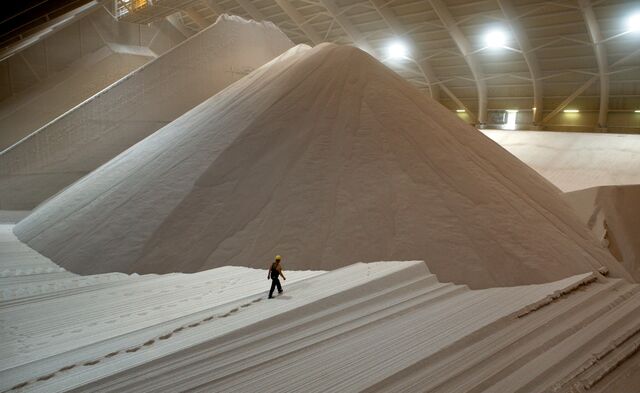 The future of several European potash mines and some development projects in Canada are under threat after the world's largest producer set off what may become a price war.
Russia's OAO Uralkali said July 30 it will ramp up to full production capacity. It said that as a result, the fertilizer may tumble to less than $300 a ton from about $400 currently.
At that price, two mines owned by Germany's K+S AG, Europe's biggest producer, would barely break even, according to data compiled by Green Markets. Some of Israel Chemicals Ltd.'s European mines have per-ton costs in the "mid-$200s," according to Joel Jackson, an analyst at Bank of Montreal.
"You're going to see the higher marginal-cost producers really get squeezed," said Jeffrey Nelson, a St. Louis-based analyst at Edward Jones & Co.
Uralkali's move to withdraw from an export sales venture with Belarus is reverberating in the $20 billion market for potash, a form of potassium that strengthens plant roots and helps crops resist drought. The company said it will end output curbs that were imposed as part of a now-defunct accord. It plans to accelerate production this month, sell freely into the market and expand market share.
Producers have plunged since July 30 as investors dumped the shares on concern that profits will crumble because of lower prices and surplus supply. K+S has fallen 30 percent in the period and ICL 18 percent.
Companies developing potash projects have also fared badly. London-based Sirius Minerals Plc and Canada's Encanto Potash Corp. are down 25 percent and 36 percent, respectively.
Goldman Forecast
The market upheaval means about 6 million tons of production capacity that's unprofitable or barely profitable will have to be cut in the next two years, Goldman Sachs Group Inc. analysts said in an Aug. 1 note. That's equal to about 12 percent of last year's global output. Goldman cut its 2014 potash price forecast by 42 percent to $281 a ton.
According to the bank, potash is similar to the iron ore market, where years of booming demand from Asia led to a rush of investment in new mine capacity, creating a looming oversupply.
"This event is very significant not only for the potash market but for the broader commodity markets as it underscores the impact that substantial new production capacity is beginning to have," Goldman analysts led by Christian Lelong said in the note.
German Mines
As the world's lowest-cost potash producer, Uralkali is well placed to weather a price decline. It has so-called cash costs of $60 a ton, while K+S mines the commodity for about $280 a ton, said Neil Fleishman, an analyst at Green Markets, an information provider that's a unit of Bloomberg LP, the parent of Bloomberg News.
Operating mines threatened by $300 potash include K+S's Sigmundshall and Werra operations in Germany, Fleishman said.
K+S Chief Executive Officer Norbert Steiner said yesterday on the Kassel, Germany-based company's second-quarter earnings conference call that it can't provide cash costs for individual mines. The $280-a-ton cost estimate isn't accurate, said a K+S spokesman.
The German company's proposed C$4.1 billion ($4 billion) Legacy mine in the Canadian province of Saskatchewan may not be viable, John Philipp Klein, a London-based analyst at Berenberg Bank, said Aug. 2 in a note. K+S said yesterday it's sticking with its plan for the project.
Dead Sea
The "mid-$200s" average cash cost estimate for ICL's operations from Bank of Montreal's Jackson, who spoke yesterday by phone from Toronto, is for the company's European mines: Boulby in the U.K. and Cabanasas and Llobregat in Spain. ICL also extracts potash from the Dead Sea in Israel.
ICL said in an e-mailed statement that Jackson's estimate is "far from being accurate" and that its operations in Spain and Israel are among the most competitive in the world.
"ICL is quite confident that it will remain a profitable potash producer both in the short term and in the long run," it said.
Lower potash prices will harm the efforts of so-called junior mining companies to finance and build mines, said Peter Prattas, a Toronto-based analyst with Cantor Fitzgerald LP.
There are at least 20 to 30 junior companies that will struggle and the only ones that can survive are those with completed feasibility studies and projected capital expenditure of $1 billion or less, Prattas said by phone on Aug. 12. He declined to identify specific companies.
Saskatchewan Projects
Feasibility studies detail a potential mine's economics and costs, allowing investors to weigh its merits.
Encanto and Canada's Western Potash Corp. are among potash development companies facing the biggest challenge because their projects are among the most expensive, Steven Hansen, a Vancouver-based analyst at Raymond James Ltd., said Aug. 12 in a phone interview.
Encanto proposes building its Muskowekwan project in Saskatchewan for an estimated C$2.9 billion and plans to complete a feasibility study in the first quarter of 2014. The slump in its share price hasn't affected talks with a group of Indian potash distributors, said Gary Deathe, Encanto's director of corporate development.
While Western Potash's C$3.3 billion Milestone project, also in Saskatchewan, has a planned operating cost of $62 a ton, the need to sell to China at lower prices will hit the company's ability to fund the mine, according to Nelson Mah, a Toronto-based analyst at Laurentian Bank of Canada.
'Best News'
"We are the most bearish on Western Potash among our junior coverage universe," Mah said in a July 31 note.
Western is well positioned to weather the shift in the market, John Costigan, the Vancouver-based company's vice-president of corporate development, said in an interview.
Some developers of potash mines say the turmoil in the industry may present an opportunity.
The shift "re-emphasizes the need for new, low-cost, long-life projects that can operate outside the existing restricted market," Sirius CEO Chris Fraser, whose company has plans for a $1.9 billion potash mine on England's Yorkshire coast, said in an Aug. 6 statement.
Chad Brownstein, executive vice chairman of Denver-based Potash miner Prospect Global Resources Inc., said Uralkali's announcement will open up the global market for small, low-cost producers while larger rivals fail to keep up on costs. Prospect will have an operating cost of $115 a ton, he said.
"It was probably the best news we could have received," he said of the Uralkali announcement. "The low-cost project wins."
Before it's here, it's on the Bloomberg Terminal.
LEARN MORE