Pleygo's Near-Perfect Pitch: It's Like Netflix for Lego
by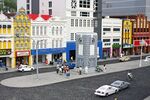 Mother faces a problem. Mother devises a solution; a company is born. This time around, the mother is Elina Furman, and her problem was that she was spending a fortune on Lego sets for her son. What if there were a Netflix-like service for Legos, with monthly subscription fees, thousands of sets to choose from, and free shipping? Pleygo was launched in May.
The company began with funding from Stonehome Capital and now has a commitment for $6 million from two other venture capital firms. Tom Dillon, the former chief operating officer of Netflix, is on the board of directors, and Furman says executives from major retailers will be joining shortly. The sets, some 50,000 of them, are sent to and from a warehouse in San Jose, where they're cleaned by machines between rentals. "We don't have Lego elves cleaning the bricks," she says. "That would be unsustainable."
The company says it has more than 7,000 users and that membership is doubling every month. Pleygo offers three monthly subscription rates, based on the size of sets customers want to rent: $15, $25, or $39. So it's not cheap, but it's cheaper than buying. The Star Wars Rogue Shadow, for example, goes for $179.99 on Amazon.com. "Our goal is to keep it affordable," says Furman. "We're democratizing the Lego community."
That's great, but most customers have a more mundane concern: How does Pleygo keep track of all those pieces? Furman says that actually hasn't been much of a problem, though each set does arrive with a bag of spare parts. The bigger issue has been figuring out how to offer free and fast shipping. For now, the company uses priority shipping from the U.S. Postal Service. Pleygo needed its version of the red Netflix envelope, too. That turned out to be a custom-designed cardboard box that comes in two sizes: small and large.
Furman co-founded A-List Mom, a DailyCandy for mothers, and before that wrote Kiss and Run: The Single, Picky, and Indecisive Girl's Guide to Overcoming Her Fear of Commitment. With Pleygo, she says she's hoping to create a global lifestyle brand around Legos. There are already plans to offer the service in Australia, the U.K., and Germany. "I hope the brand becomes about sharing and the sharing economy. We have to fight against the hoarding mentality."
And that may be the natural constraint to Pleygo's growth: Most kids, given the opportunity, are hoarders.
Then there's Lego itself. "It's going to be interesting," Furman says. "We hope they like what we're doing." Lego didn't respond to a request for comment.
Before it's here, it's on the Bloomberg Terminal.
LEARN MORE