Mini-Madoff and the 'Dysentery of Crime'
Paul M. Barrett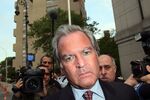 You probably don't remember Marc Dreier, and that's a loss to the annals of white collar crime lore. A once-prominent New York lawyer sentenced in 2009 to 20 years in prison, Dreier ripped off a bunch of hedge funds and wealthy investors to the tune of $700 million. Not too shabby, until you compare it with the tens of billions taken by convicted Ponzi king Bernard Madoff, whose near-simultaneous and even more spectacular implosion eclipsed Dreier's. The New York tabloids added insult to injury, nicknaming Dreier "mini-Madoff."
Now, though, Dreier can claw back some notoriety by dint of the fact that the remnants of his prosecution have produced one of the great lines in modern American jurisprudence. "Fraud is the dysentery of crime," U.S. District Judge Jed Rakoff wrote in a recent decision (pdf) disposing of Dreier's $33 million personal art collection. "Even after the infection is contained, the unpleasant after-effects linger interminably."
Rakoff approved the transfer of 15 art works to Heathfield Capital, a successor-in-interest to one of Dreier's main victims, financier Paul Singer's Elliot International. The pieces, which once adorned Dreier's Manhattan home (itself auctioned off several years ago for $8.2 million), bear such famous names as Lichtenstein, Rothko, and Warhol. Dreier had pledged the art as collateral in an elaborate scheme involving the sale of fake promissory notes. On Aug. 12, the U.S. Attorney's Office in Manhattan said U.S. Marshals had made the hand-off to Heathfield Capital.
Certain other parties claiming Dreier had preyed on them objected to Heathfield's claim on the art, prompting Rakoff to observe ruefully: "Even after a confidence man has been convicted, the victims of his fraud are often reduced to fighting among themselves over what assets remain."
As part of the distribution of Dreier's assets, Heathfield Capital will pay $1.65 million to the government for distribution to other victims. One hopes that sum will purchase at least some relief from remaining gastrointestinal and pocket-book symptoms.
Before it's here, it's on the Bloomberg Terminal.
LEARN MORE