Meet Bill Baer, the Trustbuster Blocking the Airline Merger
By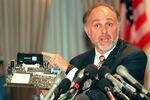 People who are surprised that the government is suing to block the merger of AMR and US Airways don't know William Baer.
Baer, 63, has a long history as an "eager sheriff." He headed the antitrust practice at the Washington law firm of Arnold & Porter and served two stints at the Federal Trade Commission, where he blocked the merger of Staples and Office Depot and imposed conditions on Exxon's merger with Mobil. After almost a year of Republican obstruction, Baer was confirmed by the Senate to be the assistant attorney general in charge of the U.S. Justice Department's Antitrust Division in December.
"He's an experienced enforcer who knows how to make hard judgments in both directions," Janet McDavid, a partner with Hogan Lovells US who has worked with Baer on numerous cases, told Bloomberg News at the time of his confirmation. "He's aggressive, but sensible."
In the eight months since his confirmation, he has made his presence felt:
January: He challenges Anheuser-Busch InBev's takeover of Grupo Modelo on antitrust grounds. AB InBev eventually agreed to turn winemaker Constellation Brands into a competing brewer that will produce and control all Modelo brands in the U.S., including Corona. Baer claimed the concessions would save American beer drinkers almost $1 billion a year.
April: At a Senate hearing, Baer says he wouldn't rule out the department starting another probe of Google's business practices if new allegations emerge.
April: Baer says he favors airwave auction rules that would allow smaller carriers to compete for wireless broadband service. He says big companies might buy airwave frequencies just to keep them away from competitors.
July: A federal judge finds that Apple violated antitrust law by conspiring with publishers on prices of digital books, known as e-books, a case prosecuted by Baer (though launched before he took office). An Apple lawyer says that the company could be forced to pay hundreds of millions of dollars in damages.
August: The DOJ files suit to stop the American-U.S. Airways merger. "If this merger goes forward, even a small increase in the price of airline tickets, checked bags, or flight change fees would result in hundreds of millions of dollars of harm to American consumers," Baer says.
Aspiring monopolists, consider yourselves warned.
Before it's here, it's on the Bloomberg Terminal.
LEARN MORE