Judge Tosses Out Racial Discrimination Claims Against Paula Deen
By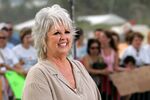 On Monday,  a federal judge dismissed the racial discrimination claims against celebrity chef Paula Deen made by a former employee. Other claims in the suit, including allegations of sexual harassment, are still pending.
The plaintiff, Lisa Jackson, worked for five years as general manager of Uncle Bubba's Oyster House, a restaurant in Savananah, Ga., that Deen co-owns with her brother Bubba Hiers. In a lawsuit filed last year, Jackson alleged that during her time at Uncle Bubba's she was routinely subjected to an abusive work environment full of sexual impropriety, boorish behavior, and racist remarks. Earlier this summer, revelations from the lawsuit—particularly Deen's admission in a deposition that she had previously used a racial epithet—touched off a storm of public anger against Deen, resulting in the sudden collapse of much of her national branding business and the cancelation of her shows on the Food Network.
On Monday, the judge in the case ruled that Jackson, who is white, has no standing to sue her former employer for racial discrimination. "We are pleased with the court's ruling today," a publicist for Deen said in a statement sent to the Associated Press.
Deen's victory in court is unlikely to reverse much of the damage already done to her business. From a marketing perspective, too many discomforting allegations about Deen's businesses have already lodged themselves in the public imagination for national brands to reconsider using her name and image as a shorthand symbol of sweet Southern comfort.
"As I've said all along, you have to play in the court of law and you have to play in the court of public opinion," Howard Bragman, vice chairman of Reputation.com told USA Today in the wake of Monday's ruling. "Like O.J. Simpson—who won in the court of law but lost in the court of public opinion—Paula's in the same situation. You can't put the toothpaste back in the tube now."
And if you're Serta, you can no longer slap Paula Deen's name on a mattress and expect consumers to associate it with a comfortable night of sleep.
According to the New York Times, settlement talks between lawyers for Deen and Jackson are ongoing.
Before it's here, it's on the Bloomberg Terminal.
LEARN MORE