Hamptons Scene: Polo for Robin Hood with Nacho, DiMenna
Amanda Gordon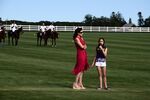 A few years ago, polo player Nacho Figueras was a happy customer at the lemonade stand set up by Diana DiMenna and her children on the final day of polo at Two Trees Farm in Bridgehampton, benefiting the Robin Hood Foundation.
Figueras helped boost business by sending a Twitter message about it. Then he had another idea: organizing a polo match for Robin Hood, which works to eliminate poverty in New York by funding more than 200 nonprofits.
"Giving back is something I really feel inside," Figueras said. "When you give people opportunity, great things happen."
The event took place for the second year in a row on Sunday at the private Equuleus Polo Club in Water Mill. It's a horse farm owned by DiMenna and her hedge-fund manager husband, Joseph DiMenna.
On the greenest grass, beside one of the most beautiful tents -- handcrafted from sailcloth -- families in the finest afternoon attire assembled for socializing, pony rides, polo and an asado, an Argentine barbecue.
Named the Piaget Hamptons Cup after its underwriter, the match featured teams sponsored by St. Regis Hotels & Resorts and Credit Suisse Group AG. The St. Regis team, with Figueras and Joseph DiMenna, claimed the cup, pulling up to the trophy stand in a 1954 aqua Plymouth Woody station wagon the DiMenna family calls "Surf."
Wholesome Sport
Tickets, at more than $1,000 apiece, included photographs with Figueras and signed polo balls. The 350 attendees and corporate support brought the event's gross to $600,000; about $500,000 will go to Robin Hood, with proceeds still coming in, said Diana DiMenna.
"Polo is a wholesome sport. It's about family, nature, animals. It has nothing to do with champagne, hats or the Kardashians."
Making the event a family occasion was a priority for DiMenna, mother of two girls, and most guests agreed that was their reason for attending.
"To me the Hamptons is connecting the dots purely of the family," said Donna Karan who earlier in the day bought an elephant sculpture for her granddaughter to support a campaign to save the elephants of Africa.
Steven Mnuchin, chairman of OneWest Bank FSB, Alexander Navab of KKR & Co., and Michael Evans of Goldman Sachs Group Inc., all stayed close to their kids.
Philip Falcone of Harbinger Group Inc. brought his daughters, one of whom rides horses. Asked if it was safe compared to his sport, hockey, he said, "You have farther to fall on a horse."
Lemonaid Stand
Michael Karsch and his 9-year-old son, Sam, checked out the lemonade stand, staffed by adults and offering information kits on organizing a Robin Hood Foundation "Lemonaid Stand," the program that the DiMennas had followed when they set up theirs.
The kit includes lemonade recipes, but the Karsches were brainstorming their own brew, thinking of ways to incorporate ingredients used at the Juice Press store in East Hampton, where they'll set up their stand. Karsch, principal and owner of Karsch Capital Management LP, is an investor in Juice Press.
They agreed they'd use organic lemons.
"Kids wouldn't be happy about kale," Karsch said. Sam suggested watermelon juice. He likes to tell customers "they can pay whatever price they want because it's for charity."
Family Action
One of his first customers, Sam recalled, paid $50 for two lemonades. He said he's been part of the Robin Hood Lemonaid stand since he was two. Asked about philanthropy in his family, he said, "We've been sending kids from Harlem Village Academy to Cornell."
David Saltzman, executive director of the Robin Hood Foundation, said the stands originated when a board member set one up with his children, about 10 years ago. They caught on as a way to teach the young ones about philanthropy and helping others.
He said at the first stand his sons set up, they'd argued about whether to offer the lemonade at a fixed price or leave it to the customer to decide. They decided to try open pricing the first hour, fixed pricing the second. The first customer paid $100 for one lemonade, and they stuck with that model.
"Since we started a decade ago, children have raised $1 million to help children in need," Saltzman said.
(Amanda Gordon is a writer and photographer for Muse, the arts and leisure section of Bloomberg News. Any opinions expressed are her own.)
Before it's here, it's on the Bloomberg Terminal.
LEARN MORE