Carl Icahn Juices Apple
by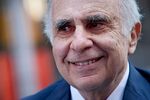 Activist investor Carl Icahn just weighed in on the months-long debate as to whether Apple shares have bottomed out.
He disclosed via Twitter that he had taken a "large" stake in the company, a missive that immediately sent shares surging by 2.5 percent as investors andWeb-trolling trading robots scrambled to follow his lead.
Around 2:15 p.m., Icahn posted this:
Three minutes later he name-dropped the Apple CEO once more:
By that point, a huge wave of orders were already pushing the stock from $475 to almost $488. By 3 p.m., they were flirting with $490.
Icahn has plenty of practice making carefully crafted talking points pay off in the markets, but Twitter is a relatively new forum for him. His first message came on June 20 in the midst of a bidding war with Michael Dell. "Twitter is great," he wrote. "I like it almost as much as I like Dell." Until today, Icahn had tweeted only 10 times, though he'd already amassed about 34,000 followers.
While Apple's board may be rattled at the prospect of such an outspoken, hands-on investor, shareholders welcomed the boost. From September—when the stock hit a peak of 702—to July, almost half the company's market value disappeared. The stock has regained a little ground in recent weeks on expectations that the company will wow with its perennial September product launch.
Despite its fall, though, Apple is still huge, and Icahn will have to pay up if he wants to throw his weight around. Today, a 5 percent stake was running more than $20 billion—and getting more expensive by the minute.
Before it's here, it's on the Bloomberg Terminal.
LEARN MORE