Campaign Cash From Nunes Beats Ryan in Race for Chairman: Taxes
Marc Heller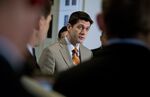 If the road to the chairmanship of the House Ways and Means Committee is paved with campaign cash, Devin Nunes may be in the passing lane.
The California Republican has given $715,000 of his own campaign money to the National Republican Congressional Committee since June 2012, Bloomberg BNA reported, citing reports filed with the Federal Election Commission. That dwarfs contributions of presumed front-runners for the slot, Paul Ryan from Wisconsin and Kevin Brady of Texas.
Discussions about who would run the committee are heating up ahead of 2014 political races. The spot may open up if Dave Camp steps aside as chairman as required by House Republican term limits or in case he runs for and wins the Senate seat being vacated by Democrat Carl Levin in Michigan.
The potential committee contest has big implications for tax legislation, assuming Republicans maintain their majority in 2014. Ways and Means is the House's tax-writing group, and lawmakers increasingly say that the tax-code overhaul they have been working toward for months probably won't take final form in 2013 or possibly even in the current Congress. The next chairman will inherit it.
Nunes hasn't said publicly whether he is interested, a spokesman told BNA.
The competition for committee chairmanships plays out in the House Republican Steering Committee, a panel that includes committee chairmen and others favored by the leadership. The committee interviews candidates and decides whom to recommend. The House Republican membership makes the final decision.
Ryan's Lead
A contest in Ways and Means isn't guaranteed. If Ryan appears the clear favorite, others may step aside. Camp, if he remains in the House, could ask the leadership for a waiver to let him hold on to the chairmanship. Ryan used that approach to retain the Budget Committee chairmanship in 2013.
The situation is less murky in the Senate's tax-writing Finance Committee, where Chairman Max Baucus, a Montana Democrat, is retiring in 2014. Seniority there is a greater factor and Ron Wyden, a Democrat from Oregon who supports a tax rewrite, is next in line.
Business groups are beginning to look at how the personnel situation in the House is shaping up, and would prefer to see a rewrite completed before chairmanships change hands, a lobbyist for business interests told BNA.
Money has gained prominence as a factor in committee picks since the Republicans moved away from seniority as the main determinant under former House Speaker J. Dennis Hastert. Camp stood out as a prolific fund-raiser when he bypassed the more senior Representative Wally Herger of California in 2008 to take the top Republican slot.
Ryan, Brady
Fund-raising prowess is not the only consideration -- seniority, good relations with leadership, loyalty on the issues and likability all play into decisions on who leads committees.
Lobbyists who work with the committee say Ryan remains the favorite because of his national stature, his mastery of spending and tax issues and his enthusiasm for reform. Brady is seen as someone who can reach out to Democrats, lobbyists said.
Brady, elected to Congress in 1996, also outranks Ryan, elected in 1998, in seniority. They each trail Representative Sam Johnson, a Texas Republican elected in 1991, though Johnson, 82, has been passed over before for the top Republican post.
Brady may also benefit from his decision to switch from the subcommittee on trade to the one on health, which broadens his expertise, one tax lobbyist told BNA. The move also puts Brady in the spotlight on the health reform law, a key issue for the Republican leadership.
Contributions Math
Contributions to the NRCC, whose mission is to help win House seats, aren't unusual. Leaders tell chairmen, particularly those in noncompetitive races, to make them.
Nunes contributed $565,000 from his campaign to the NRCC in 2012, plus $150,000 in 2013. His leadership political action committee gave $30,000 to the NRCC in 2012, according to the Washington-based Center for Responsive Politics, which tracks campaign finance issues. He also contributed about $15,000 to individual Republican congressional candidates.
Ryan gave $110,000 from his congressional campaign to the NRCC in the 2012 election cycle, and none so far in 2013, the Center reported. His leadership PAC gave $45,000 to the NRCC, $30,000 to the Republican National Committee, and $15,000 to the National Republican Senatorial Committee in 2012.
Brady, who doesn't have a leadership PAC, gave $150,000 of his campaign cash to the NRCC in 2012, and $30,000 to Republican congressional candidates, according to the Center.
Lobbyists and policy analysts said they don't expect much policy difference among the potential candidates for the Ways and Means chairmanship.
Driving Rewrite
Brady has introduced bills exempting certain stock of real estate investment trusts from the tax on foreign investment and repealing the estate tax. Ryan hasn't introduced any tax bills referred to Ways and Means. Nunes introduced tax-related bills dealing with public employee pensions, welfare benefits for Indian tribes and encouraging agricultural research.
Brady and Ryan both support tax reform, said Curtis Dubay, senior tax policy analyst at the Heritage Foundation, a conservative think tank.
"They're all headed in the same direction on tax policy," Dubay said. "They're all going to be driving for tax reform."
Before it's here, it's on the Bloomberg Terminal.
LEARN MORE