California's Bullet Train Builders to Elon Musk and His Hyperloop: Best of Luck!
By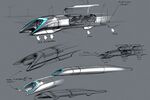 "L.A. to S.F. in 30 minutes?" the front page of the Los Angeles Times asked this morning, reporting on the promise of Hyperloop, the conceptual superfast, solar-powered, tubular transit system that Elon Musk unveiled yesterday. The news came just a day after another L.A. Times piece about the potential of speedy travel up and down California, that one titled: "'Shovel-ready' bullet train construction delayed again." As the blog Curbed Los Angeles put it, "Nice timing, Musk."
The contrast between Musk's futuristic option for bridging Los Angeles and the Bay Area, and the much-delayed, over-budget, fast train that the state already has in the works, couldn't have seemed starker or more striking. And that's the point. Musk deliberately hopes his Hyperloop will disrupt current plans for the $68 billion railroad. "I don't think we should do the high-speed rail thing," Musk told reporters. "It's basically going to be California's Amtrak," he said. He didn't mean that as a compliment.
The California High-Speed Rail Authority was not amused. Chairman Dan Richard told the San Francisco Chronicle that while the Hyperloop sounds "great," it won't be competition anytime soon: "It's sort of like me saying, 'Don't buy a Tesla, because the Jetsons' flying car is right around the corner.'"
Richard said Musk greatly underestimates the costs of the Hyperloop, not to mention how hard it is to secure funding for mass transit and convince neighbors and environmentalists that such a system won't be harmful. "While we have a lot of respect for his inventiveness, I think we could tell him a few things about the realities of building in California," Richard said.
Hyperloop might just be a drawing, and a far-fetched one at that, but as Southern California Public Radio points out, it's already working in one regard—by reminding residents that California's existing bullet train plan has plenty of shortfalls. Californians approved about $10 billion in bonds for the project back in 2008. The costs have multiplied since then, but the state hasn't secured all of the additional funds needed. The train is also behind schedule because of delays in engineering the project and acquiring land along the route, and because of all sorts of environmental and legal challenges. Meanwhile, the clock's ticking on federal stimulus grants, which expire in 2017.
Despite the difficulties, L.A. Times editorial writer Jon Healey says, "If I had to pick a horse in this race, I'd bet on California finishing the oft-delayed high-speed rail line from Los Angeles to San Francisco before a single section of Hyperloop gets built." After all, California's already devoted so much time and money to the current plan. And unless the train's speeds are slowed further in planning, it's supposed to get passengers from L.A. to S.F. in two hours and 40 minutes. That's no 800-mile-per-hour Hyperloop, sure. But it's far better than the mind-numbing six-plus hours it currently takes to drive.
Before it's here, it's on the Bloomberg Terminal.
LEARN MORE