BP Is Rapidly Becoming One Giant Law Firm
Paul M. Barrett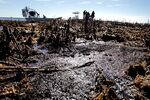 BP used to be a company that produces oil. Increasingly these days, it's producing litigation in almost equal measure. Senior company executives have told me in recent months that a substantial part of the London-based energy giant now effectively operates as a law firm, dealing full-time with what the company sees as the surprisingly persistent courtroom and regulatory fallout from the 2010 Gulf of Mexico disaster.
The latest evidence of BP's emerging dual mission is a lawsuit the company filed Aug. 12 against the Environmental Protection Agency in federal court in Houston. BP accuses the EPA of improperly suspending it late last year from receiving any new federal contracts. (The company's existing contracts with the U.S., worth more than $1.3 billion, aren't affected.) In essence, BP's suit complains that the company has been trying to make amends for the mistakes that led to the 2010 disaster, but that the EPA, along with other arms of the federal government, are unfairly punishing BP. Rather than work out these differences behind the scenes, BP has gone very public as part of a larger shift toward legal combat.
To put BP's bellicosity into context: After the 2010 well blowout that killed 11 rig workers and spewed millions of barrels of oil into the Gulf of Mexico, BP went to unusual lengths to acknowledge responsibility and repair the vast damage. To date, the company has sold assets worth some $40 billion and agreed to pay more than $25 billion for cleanup and damage claims. In late 2012, BP tried to negotiate a global litigation settlement with the federal government and gulf states; that pact would have been worth another $16 billion or so, but it fell apart when Louisiana held out for even more money. BP went ahead with a federal criminal plea bargain, agreeing to pay $4 billion in penalties. It also reached a separate multibillion-dollar settlement with plaintiffs' class-action lawyers in 2012.
The company's attempts at compromise didn't work out as planned. Rather than wrapping up its liability for private damage claims, the settlement with the plaintiffs' lawyers dissolved into an open-ended money grab. Shady dealings at the court-sponsored facility set up to pay claims have led to a court-ordered investigation by former FBI Director Louis Freeh. BP has warned that if a federal appeals court in New Orleans doesn't intervene, the company will pull the plug on the private-claims settlement, a move that could reignite hundreds, if not thousands, of individual lawsuits.
In this new suit against the EPA, BP alleges that there's something odd about the EPA contract suspension. Since the spill, the Interior Department has praised the company's improved safety procedures and, based on that evaluation, awarded BP dozens of new drilling leases in the gulf. William Reilly—the co-chairman of the presidential gulf spill commission, a former EPA chief, and a leading critic of BP—has acknowledged that the company "learned its lesson" from the 2010 disaster and cleaned up its act.
So why would the EPA zing BP now? It's possible that the government wants to pressure the company while BP continues to defend against yet another legal action: a Justice Department civil lawsuit seeking up to $17.5 billion in additional damages. (This suit would have been resolved under the attempted global settlement that failed last year.)
Under attack from all fronts, BP has concluded that it has no choice but to counter. As Chief Executive Robert Dudley explained in Bloomberg Businessweek's Interview Issue, BP tried negotiation; now it will go the litigation route. Thus the suit against the EPA and, more broadly, the de facto division of the company into an oil operation and a law firm.
One need not love BP to regret that a legal process that seemed headed toward a reasonable resolution just eight or nine months ago now is exploding into an inferno likely to last a long, expensive time. Unless, of course, one is a lawyer who will profit from tending the flames of conflict.
Before it's here, it's on the Bloomberg Terminal.
LEARN MORE