BlackBerry's Future May Be Behind the Wheel
By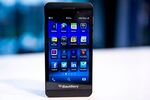 When you think BlackBerry, you probably think, "Oh man, that company's up a creek." And you may be right. But parts of BlackBerry may be worth more separately than all together. Chief among them is QNX, the software company BlackBerry (then Research In Motion) acquired from Harman International Industries in 2010. QNX and Panasonic's automotive division announced a deal Tuesday that makes QNX the software partner for Panasonic's various in-car information and entertainment systems.
Few people have heard of QNX, but many have used it: It's the operating system that powers in-dash navigation, video and audio systems in Audis, BMWs, and cars from GM, among others, and its prospects in the car world remain bright. Cars are getting only more connected, and drivers and passengers want more features and services available to them while they're on the road. If it's on your smartphone, the conventional wisdom goes, it should be on your dashboard.
Which may make QNX a target should BlackBerry sell parts of itself, something that seems likely, given the company's announcement that it is considering its strategic options. That raises the question: Who would want it?
Other car OS companies: QNX is one in-car OS, but it's not the only one. Microsoft supplies an OS to Ford, Fiat, and Hyundai/Kia. Harman provides these services to all kinds of automakers (but having owned QNX once before, it would probably be less likely to buy it back). Then there is the Genivi Alliance, an open-source standard that is supported by a number of carmakers and auto suppliers.
Big tech companies: It's no secret that Google would like Android to be in more than just smartphones and tablets. Microsoft is aiming to expand its car-based offerings. Even Apple has taken steps toward migrating its operating system, iOS, into the car. Would one of them want to buy QNX and a) learn from what it's accomplished thus far and b) take a competitor off the market?
Behind-the-scene auto suppliers: The just-announced relationship between Panasonic and QNX is sort of funny, since Panasonic competes directly with QNX's former parent, Harman. Then you have the other big players in in-car hardware: Pioneer, Alpine, and Hitachi round out the top five suppliers. Adding QNX to their hardware could create a more integrated package that could be sold to carmakers.
Wireless companies: This is perhaps the most intriguing possibility. Might an AT&T or Verizon Wireless want to get into the auto market? Get more cars connected, and you get more customers for your network—who may then switch their personal devices over to you as well, particularly if you offer new features that link a smartphone more strongly to a car (if they're on the same network, of course).
The likelihood that BlackBerry will turn itself around seems unlikely, to say the least. The most promising part of the company may be the one that people know the least about.