Why Dole Desperately Wants to Go Private Again
by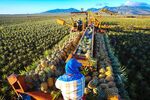 It's not a great time to be in the fresh fruit business. Profit margins are being squeezed, bad weather is a hassle, and growers are increasingly choosing to sell directly to retailers, bypassing a supplier like Dole Food.
All of which made Dole Chief Executive Officer David Murdock's offer to take the company private attractive, and today Dole accepted. The purchase price of about $1.6 billion, or $13.50 per share, is about $500 million more than Murdock's initial offer in June. If it goes through, this will be the second time Murdock has taken the company private. The sale is expected to close by year's end, assuming no higher bidders emerge.
As a result, banana lovers can expect to pay a bit more. Produce peddlers such as Chiquita Brands International, Fresh Del Monte Produce, and Dole—the largest U.S. banana supplier—have been skirmishing for market share. Over the past year, prices have dropped about 3 percent industrywide, enough to hurt financial results, says Brett Hundley, a senior analyst with BB&T Capital Markets. "They all blame each other," he says. "But when one of the largest guys out there is more levered and he's gone private, we see more room for rational pricing."
In other words, the leverage Murdock is assuming in the deal will press him to boost prices—debt as discipline, as it were.
The 90-year-old CEO—a fervent advocate of healthy eating who says he will live to be 125—has been down this road before, paying $2.5 billion 10 years ago for a company that was larger. Dole divested its worldwide packaged foods and Asian fresh food business this spring for $1.7 billion cash, most of which it used to pay down debt. The sold units represented about 38 percent of the company's revenue, which was $6.8 billion last year.
Murdock was reluctantly forced back into the public market in 2009, Hundley says, due to Dole's heavy debt load, and the company has suffered persistent losses from its fruit businesses, including a deep hit from Southern California strawberry fields that were damaged by extreme weather this year. The company is the second-largest strawberry supplier in the U.S.
On a conference call last month announcing another weak quarter, C. Michael Carter, Dole's president and chief operating officer, explained the structural changes that have pummeled the company. Big retailers are going straight to sourcing countries just as national governments have increased the fruit per box.
There's been a natural squeeze occurring between the retailers who are reluctant to increase price—which we've been trying to encourage them to do, on the one hand—and our sourcing countries where minimum pricing is occurring. … We wind up, frankly, competing with some of our own suppliers. And it's an awkward situation that we find ourselves in. So I think, strategically, the industry is—at least, certainly, the big players—need to find a way to try to deal with that.
One way for Dole to deal with it is to keep cutting costs and focus on improving the margins for its fresh fruit, vegetables, and packaged salads businesses with higher prices. This time around, however, Murdock appears to be better capitalized and able to avoid another trip to Wall Street, stock in hand. In 2012, he sold billionaire Larry Ellison the Hawaiian island of Lanai for more than $500 million.
Before it's here, it's on the Bloomberg Terminal.
LEARN MORE