Sara Horowitz Wants the Feds to Stop Shortchanging Freelancers
by and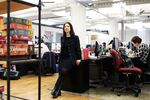 Sara Horowitz founded Freelancers Union in 1995 to bring independent workers together. The group now counts more than 220,000 members, and Horowitz has a voice that reaches business and government leaders: In December she joined the board of the Federal Reserve Bank of New York as a director to represent public interests. We recently sat down with Horowitz at her office in Brooklyn, N.Y. Here are edited excerpts of our talk.
You've talked about changing the conversation around freelancing. Where do you think the conversation needs to go next?
The realization is that freelancing is the way people are going to work, whether you call it being entrepreneurial. or freelancing. or being self-employed, or consulting. People are putting together gigs and work to make up their income for their lives. And it's here. Whether they like it or they don't like isn't really the question. It's accepting that it is here.
What sort of structures do those people need to make that work?
People have almost had to do it themselves. It's been entirely DIY: Put together your retirement, put together your billing system, decide your legal status. They've had to put together each of these elements themselves, which is costly. You may not do it well. How do we start to make this plug and play so that everybody doesn't have to reinvent the wheel?
Government [could] have, instead of just the Small Business Administration and the Department of Labor—some group that actually cares about these new worker-business entities and really starts making it easier: trouble-shooting, thinking about where they're going to get capital, what do they do when they don't get paid? So really it's moving from DIY to government supporting them in terms of the infrastructure needed.
What priorities for freelancers have been absent from the discussion?
I think unemployment is a really good example. This new workforce is not entitled to it. Yet people who work this way will have some time during the course of the year, in fact many times, when they just don't have work. So we should start to think about ways that people can even out their income during the course of the year. And that tees up an idea for people to be able to put away pretax dollars, and when they need that [money] they'll be able to call on that. So it's not going to bankrupt the current unemployment system, but it's starting to think of creative ways so we can get people to not be so worried. They can take on risks. They can be entrepreneurial.
And then I think it shows the bigger policy issue: The unemployment numbers are just completely wrong. People really are working in this new way and what we're measuring is: Do they have jobs, yes or no? We really need to see it's much more nuanced, and that will get us to have much better tools to really help people be productive in this new economy.
Before it's here, it's on the Bloomberg Terminal.
LEARN MORE