Japan's Slow Growth Buys Abe Time on Tax Decision
By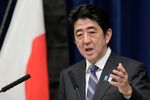 At first glance, today's disappointing GDP figures from Japan might seem a setback for Japanese Prime Minister Shinzo Abe's efforts to jump-start the moribund economy. Growth was just 2.6 percent in the second quarter, well below the 3.8 percent growth of the first quarter and falling short of the 3.6 percent growth that was the median of 32 estimates, according to Bloomberg News.
The slower-than-expected growth is a sign that the days of Abenomics' easy gains are over. Since returning to the prime minister's office last year in a landslide victory for the Liberal Democratic Party, Abe has succeeded in weakening the yen, opening the spigots at the Bank of Japan, and boosting corporate profits among many Japanese companies. "There's been an enormous amount done on sentiments and expectations," Kit Juckes, global strategist at Société Générale, said on Bloomberg TV today after the release of the second-quarter GDP figures. "There may be something of a lull, pause, hangover after the first rush of everybody saying we've all decided to go out and spend more."
"You can get a bit of a down after six months of doing that," he added, "and I wouldn't be that surprised it that's what we're going to see."
There are some bright sides to today's news, though. The growth may not have been as strong as many people had predicted, but 2.6 percent is "still respectable," Izumi Devalier, HSBC's Japan economist, wrote in a report.
Besides, if the economy isn't growing as quickly as people had expected, Abe may be able to get out of a tricky predicament. He has said Japan next year should raise its consumption tax, currently at 5 percent, to address the country's massive budget deficit (which last week hit a high, topping a quadrillion yen for the first time). Abe hasn't made a final decision yet on when the tax increase would go into effect and how big the increase would be. People have been expecting a two-phase increase, with the tax going to 8 percent in the first year and to 10 percent after that.
A Japan enjoying the first flush of Abenomics might be able to sustain that kind of tax increase without the economy suffering a major setback. But a Japan that's back to sluggish growth is another story. By pushing through a big tax increase, Abe would be "putting the handbreak on at the same time [he is] flooring the accelerator," Nicholas Smith, Tokyo-based strategist at CLSA Asia-Pacific Markets, told Bloomberg TV today.
It's possible the disappointing GDP will give Abe room to back out of his tax hike pledge, Smith added. "I don't think he will but at the moment it seems there's a bit of a wobble there."
If nothing else, today's numbers are likely to make Abe wait for more data before making a decision. Probably that means no news until October. "Ultimately, we expect the Prime Minister to go ahead with the VAT hike as planned, but increasing noise around the issue suggests that the LDP and Cabinet remain divided on the issue," HSBC economist Devalier wrote.
Before it's here, it's on the Bloomberg Terminal.
LEARN MORE