In the Battle for the Bulging, Weight Watchers and Jenny Craig Lose to the Internet
by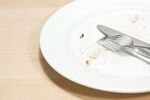 Obesity may still be a huge problem, but some well-known weight-loss programs aren't getting any fatter for it. Jenny Craig sales have continued to slump in the first half of the year, Weight Watchers revenue is down 3.7 percent so far this year, and revenue at Nutrisystem, whose sales have fallen since 2008, dropped 20 percent.
It's not like Americans got skinny or simply stopped trying. So what gives? According to the suffering weight-loss companies, it's the economy—well, that and the rise of the fitness monitor.
In hard economic times, more consumers are trying to lose weight on their own, often with the help of free online fitness trackers, the companies say. During a Weight Watchers earnings call this month, the company pointed out competition from the "sudden explosion" of interest in free apps and activity monitors. "The issue with free apps is that they're taking trial [members] out of the market," explained Weight Watchers' chief financial officer, Nicholas Hotchkin. Weight Watchers started offering ActiveLink monitors in 2012, though they're available only to members and require an additional monthly fee.
"The entire weight-loss category is going through a transition during a difficult economic environment," says Edie Burge, a spokeswoman for Nestlé, which owns Jenny Craig. "While we can see that free apps will be appealing to a large section of do-it-yourselfers, we aren't aware of any published efficacy to show that those are making an impact." Nestlé's sales of Lean Cuisine are also down, which Burge blames on the "still challenging economy." Consumers are sorting out how much they're willing to pay for "healthy convenience," she says.
NutriSystem Chief Executive Dawn Zier, who has been at the helm for less than a year, refused to blame the Internet. "I personally do not see the free apps as really impacting us," she said on a conference call. "The person that decides to go on NutriSystem is someone who has tried those other approaches and has decided they need something more structured." NutriSystem recently started selling five-day weight-loss kits at Wal-Mart Stores to boost its retail footprint and, presumably, to reach consumers who want a shorter commitment to the traditional 28-day plan.
FitBits and Fuel Bands aside, there's simply more competition in the weight-loss arena now, too. Kurt Frederick, an analyst at Wedbush Securities, noted that Medifast, Herbalife, and USANA Health Services have performed well. "As a whole, Weight Watchers, Nutrisystem, etc. did not have anything that really grabbed people's attention this year to get them to purchase."
So many options, so many pounds.
Before it's here, it's on the Bloomberg Terminal.
LEARN MORE