As Kids Get Fatter, Britain Mulls Drastic Measures
By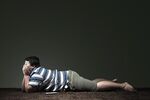 A 20 percent tax on soft drinks. A ban on television ads for junk food. Limits on the number of fast-food restaurants allowed near schools.
These are some of the radical measures being proposed to combat childhood obesity in Britain, where the percentage of seriously overweight children could soon surpass the rate in the U.S.
Even as childhood obesity in the U.S. looks to be waning, British kids appear to be getting fatter. An estimated 15 percent of British children aged 2 to 10 are obese, with the figure rising to more than 18 percent among those aged 11 to 15. The government predicts 25 percent of kids in the U.K. could be obese by 2050. (The U.S. estimates about 17 percent of American kids aged 5 to 17 are currently obese.)
In a report issued today, the British Heart Foundation blamed the epidemic on poor eating habits and lack of exercise. It said more than one-third of children consume at least one soft drink per day and more than three-fourths get less than an hour of physical activity daily. "These figures are a warning that many of our children are in grave danger of developing coronary heart disease," the foundation's chief executive officer, Simon Gillespie, said in an appearance on the ITV network's morning show Daybreak.
The Academy of Medical Royal Colleges, Britain's leading doctors' group, recently proposed imposing a 20 percent tax on sugary soft drinks for one year as an experiment to see whether it reduces consumption by kids. The group also called for a ban on TV ads for foods high in saturated fats, sugar, and salt until 9 p.m. (The U.K. already limits junk-food commercials on TV shows targeted at young viewers.) And it recommended that the government develop "formal recommendations on reducing the proximity of fast food outlets to schools, colleges, leisure centers and other places where children gather."
Industry groups, not surprisingly, oppose such drastic steps. The British Soft Drinks Association says most soda sold in Britain contains no added sugar and that a new tax would hurt consumers who can "ill afford it."
Britain's Food and Drink Federation says that existing restrictions on TV ads targeting kids have had little effect, so expanding them makes no sense.
The British Heart Foundation's Gillespie, though, says seriously overweight children could start developing heart disease, diabetes, and other obesity-linked ailments by the time they reach their 20s. "The sorts of things that people are accepting as normal now," he told Daybreak, "will actually cause significant problems for our children and teenagers."
Before it's here, it's on the Bloomberg Terminal.
LEARN MORE