A New Mobile Carrier Targets the Military
Kevin Fitchard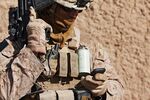 Anyone who has ever spent time in a military town knows a whole network of services, ranging from medical and dental care to banking and department stores, is provided specifically for members of the U.S. Armed Forces. One of those services, however, isn't mobile. That's changing this coming Veterans Day.
On Nov. 11, a company called Defense Mobile Corp. is launching a new mobile virtual network operator (MVNO) offering inexpensive mobile phone plans for active-duty military and their families as well as for veterans, members of the reserves, and even cadets and midshipman in the military academies. Combined, those groups encompass 51.6 million people, DMC estimates.
DMC isn't directly affiliated with the Armed Forces, though it will be able verify its customer's military status through a secure link to Defense Manpower Data Center. Rather, DMC is a private company founded and run by telecom, defense industry, and government veterans, including Peter Lurie, co-founder of Virgin Mobile USA (now one of Sprint Nextel's prepaid brands).
The MVNO will use Sprint's networks for the usual complement of voice, text, and data services, but it's also introducing mobile banking apps and a rewards program targeted specifically at military personnel.
DMC hasn't released too many details yet, but here's what I've been able to gather from its website and the recent announcement of its Sprint deal:
• DMC has reserved domain names for all the major branches of the U.S. military: armymobile.com, navymobile.com, airforcemobile.com, marinesmobile.com, and coastguardmobile.com. The URLs all redirect to DMC's homepage for now, but each branch will get its own branded set of phones and service.
• Plans will be inexpensive, starting at $20 a month. DMC's website said it will offer unlimited plans for $40 a month and family share plans for $60, but it hasn't provided any plan details just yet.
• This isn't going to be a cheap-o feature handset MVNO. DMC is promising the iPhone 5, the Galaxy S 4, and the HTC One in its lineup. It also said it would offer device financing plans. That probably means that like most MVNOs it won't subsidize devices or require contracts, but it also won't leave soldiers or sailors on the hook for the full up-front retail cost of smartphones, either. The imagery on the site also suggests DMC will be offering up a broad array of tablets.
• Each phone will come preloaded with a mobile payments app linked to a prepaid Mastercard issued by DMC. The subscriber can use the card just like any other plastic, but it's part of affinity program that lets military personnel get cash back on purchases at merchants that participate in DMC's rewards program.
• DMC is building apps for its devices specific to each branch that will access veteran and military resources, such as the TriCare (the military's health services), the American Military University, and the USO.
• DMC said it will donate 10 percent of its profit to charities benefiting veterans, such as the Hire-a-Hero Foundation, PTSD Foundation, and Fisher House.
We'll get more details when DMC announces the service in November, but it will be interesting to see just how far the company can take this concept. The reason MVNOs are popular is they target people who wouldn't necessarily find the big operators compelling due to their specific needs or lifestyles. Military personnel definitely fall into that category.
Two-year contracts and locked phones are hardly ideal for soldiers, sailors, airmen, and Marines who could be redeployed on a moment's notice, sent across the country, around the world, or to an aircraft carrier in the middle of the Indian Ocean. The FCC requires carriers to give active-duty military a lot of leeway in breaking or suspending their contracts for that reason, but an MVNO might have much more flexibility.
If DMC were to sign MVNO agreements not just with Sprint but with carriers in Korea, Germany, Kuwait, Afghanistan, or any other country with a U.S. military post or base, it could effectively offer a mobile service that follows troops throughout their careers. They might even be able to keep the same phone number. Granted, such a service would be nearly impossible to offer for $20 a month, but technically it's definitely within the realm of possibility.
Also from GigaOM:
What Mattered in Mobile in the Second Quarter (subscription required)
End of the Road Beckons for BlackBerry: Company Is Looking for 'Possible Transactions'
Breaking Bad's Science Adviser Fact Checks Some of the Show's Greatest Chemistry Moments
Snooping on Your Kids: How I Felt About My Father's Online Surveillance of Me
Two-Second Mobile Time: Google Says It's Vital to Success
Before it's here, it's on the Bloomberg Terminal.
LEARN MORE