business
Rival K-Cup Makers Are Climbing Green Mountain
By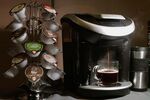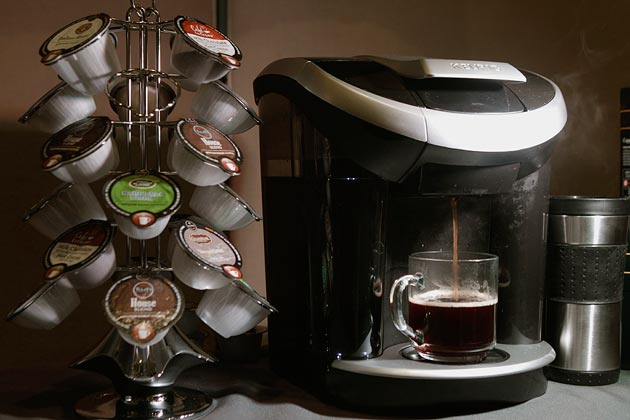 Green Mountain Coffee Roasters wants to keep its Keurig users in something like a monogamous brewing relationship. The company sells coffee and tea in more than 200 K-Cup varieties, even packaging pods branded by Starbucks, Dunkin' Donuts, Folgers, and Cinnabon to ensure that consumers loyal to those brands use its Keurig machines, too. Yet all that variety on offer hasn't kept some promiscuous owners of Green Mountain's brewing technology from tasting around.
For years, anyone with a Green Mountain-made Keurig machine basically had no choice but to use a K-Cup made by Green Mountain. The machines, which are now in nearly 16 million U.S. households, brew one cup at a time from one little plastic pods designed to be plopped inside, eliminating the cleanup of traditional filters. But previously captive Keurig owners have recently started flirting with other pods, often to save money, ever since two of Green Mountain's K-Cups patents expired in September 2012. Pods from competing manufacturers and generic brands have gained about 7 percent of the market in the last nine months, Green Mountain reported earlier this week. The figure was in line with the company's expectations, yet it appears to be growing: In the past three-month period, Green Mountain said the generic market share had climbed to 11 percent. (Some manufacturers had already been making pods for Keurig machines before the patents expired, and Green Mountain has sued some of them.)
Generic pharmaceuticals and cereal, sure, but coffee pods? Those little K-Cups have quickly grown into a billion-dollar business, and competitors are eager to grab a share. Since October, Green Mountain's single-serve-pack revenue totaled $2.4 billion, representing nearly 73 percent of its total net sales.
Rivals have raced into Green Mountain's K-Cup world—with its footprint in about 13 percent of American homes—since the market opened. Canada's Canterbury Coffee launched a biodegradable cup, arguing that environmental concern for the packaged pods is the biggest complaint about Green Mountain's K-Cup technology. Grocery chain Wegman's has its own version, which reviewers praise as a good value. Sturm Foods makes "Grove Square" cups, and Rogers Family Co. makes "San Francisco Bay" pods.
Since K-Cups are a growing share of Green Mountain's overall sales, it's a business the company must protect. The plan: Convert "unlicensed packs," as the company calls the competing products, into "licensed partners," as Green Mountain Chief Executive Officer Brian Kelley said during a conference call earlier this week. While spokeswoman Suzanne DuLong wouldn't disclose any deals in the works or incentives offered to other makers, she said in an e-mail: "As we have with the branded names we've brought into the system, we'll look to bring in private label or store brands that we believe can increase awareness of and therefore adoption of the Keurig Brewing system." She said Green Mountain expects to complete a number of deals over the next several months.
As the Vermont-based company's main market remains the Northeast, expect to see Green Mountain boost marketing in regions where the machines are less common, particularly the West Coast. Then watch for the private-label makers to follow.
Before it's here, it's on the Bloomberg Terminal.
LEARN MORE