No, Really, This Movie Is Smurfing Huge
by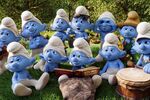 Billionaire activist investor Daniel Loeb is about to get roughed up by a bunch of little blue dudes in skintight pants.
Smurfs 2 is dominating international box offices for Sony's entertainment unit, the same business that Loeb has been pushing the company to spin off. Analysts expect the movie to gross close to $420 million abroad, which would be about four times its production budget.
In its international opening, Smurfs 2 rounded up $52.5 million, including $5 million in Russia, $4.4 million in Brazil, and $3.1 million in Germany—roughly double the amount of money earned abroad by Walt Disney's The Lone Ranger.
The strong international returns aren't entirely surprising. Sony's seminal Smurfs installment in 2011 spent two months on top of the international box office; it earned three out of four dollars overseas. The sequel's ticket sales were only slightly behind those of the original, but the film has yet to open in China, the world's second largest movie market.
"They have a very basic and simple appeal, particularly for the little ones, and it seems that in many of these countries, moviegoers have sort of adopted them as their own," Sony's head of distribution, Rory Bruer, told Variety.
Some of the world's biggest companies banked on the movie's success. About 100 corporate backers, including McDonald's, Wal-Mart and Macy's, forked out roughly $150 million to tie-in with the film, deals that plaster the Smurfs across a range of products from toys to hotels.
For most U.S. viewers, however, one Smurfs installment was enough. Domestically, the film pulled in just $27 million in its five-day opening week. So how did Sony pique interest abroad? For one, it chose a European brand. The Smurfs were born in a Belgian comic—just like Tintin, whose 2011 movie made almost $300 million abroad, about 80 percent of its gross. Sony also set the film in Paris. (Spoiler alert: There's a chilling sequence of Gargamel on the peak of the Eiffel Tower.) Finally, the tide of corporate dollars boosted its marketing reach around the globe.
The hit could not have come at a better time for Sony, which just this week rejected Loeb's calls to sell its entertainment business in an unanimous board decision. Sony is still smarting from a couple of big box office failures, most notably White House Down and the Will Smith vehicle, After Earth. Smith is pretty talented, just not Smurfy.
Before it's here, it's on the Bloomberg Terminal.
LEARN MORE