Mudslinging at J.C. Penney
by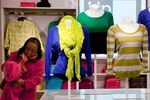 J.C. Penney's sales are tanking. Its identity and balance sheet are in question. Share prices are down a third this year, at lows unseen since 2001.
Is there a better time for a public boardroom brawl?
On Thursday director Bill Ackman, whose Pershing Square Capital Management is Penney's largest shareholder, wrote to his fellow board members (and Bcc'd the press) to prod them to hurry up and find a new, permanent CEO by next month—not within the six months they'd previously agreed to: "As the largest shareholder, I strongly urge that we immediately put together a short list of candidates, determine their interest level, and schedule a fast-track interview process with the board," Ackman wrote in the letter.
The board responded by putting out a release supporting current Chief Executive Officer Myron Ullman and excoriating Ackman for taking internal management business to the press. Said Chairman Thomas Engibous in yesterday's release:
"The Board of Directors strongly disagrees with Mr. Ackman and is extremely disappointed that his letter was released to the media at the same time that it was sent to the Board. Mr. Ackman has been integrally involved in the Board's activities since he joined two years ago. This includes leading a campaign to appoint the Company's previous CEO, under whose leadership performance deteriorated precipitously. His latest actions are disruptive and counterproductive at an important stage in the Company's recovery."
Tag. You're it.
On Friday, Ackman pretty much leased a bullhorn to call for the chairman's ouster and accuse the board of keeping him in the dark, countering with yet another letter. Among several other stingers:
• "In recent weeks our board has ceased to function effectively."
• "The decision to hire a consumer packaged goods marketing executive as the chief marketing officer of J.C. Penney is a strange decision. The skills and experience one learns from marketing lunch meats and American cheese to consumers are not logically applicable to marketing JCPenney to our customer base."
• "I am also very concerned about the budgeting process. We received three different financial projections—a new one at each of the last three board meetings—each one projecting worse results than the previous one."
• "Sometimes being 'disruptive' is exactly what a Company and board needs at a critical time."
• "I have lost confidence in our Chairman's ability to oversee this board."
This all could not come at a worse time for the century-old retailer. J.C. Penney's sales in the year ended February plunged 25 percent to $13 billion, the lowest since at least 1987, according to data compiled by Bloomberg. Its stock, which was at $76 in 2007, now trades at $12.60 per share. The company is on track to post its eighth consecutive quarterly loss, and its unsecured debt is trading at prices that suggest its cash balance is insufficient to fund a turnaround.
Last week, J.C. Penney management denied reports that CIT Group had stopped funding some of its suppliers. It said it "continues to have ample liquidity to manage its business with expectations to close the quarter with approximately $1.5 billion in cash on its balance sheet."
The problem, according to Morgan Stanley, is J.C. Penney has burned more than $1 billion in cash during the last three months.
Boardroom histrionics don't come cheap.
Before it's here, it's on the Bloomberg Terminal.
LEARN MORE