Justin Bieber's Other Problem: Sluggish Perfume Sales
By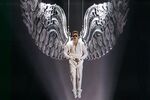 As if Justin Bieber didn't have enough troubles already. U.S. border agents found marijuana on his tour bus as it crossed into Canada this summer. He's been seen peeing in places he shouldn't and doing other things with bodily fluids he shouldn't be doing, such as spitting on fans. Now his fragrance, Girlfriend, isn't doing well, either.
The problem doesn't appear to be connected to Bieber's behavior. Instead, it seems the singer with five No. 1 albums and Wal-Mart Stores, the world's No. 1 retailer, have some business to sort out. According to a Wall Street Journal report on Aug. 8, Elizabeth Arden, which makes Bieber's fragrance as well as those from Taylor Swift and Nicki Minaj, said its sales had fallen because orders from one of its biggest customers had been cut sharply in recent months.
Executives at Elizabeth Arden didn't name Walmart, but the retailer is its biggest customer—and Walmart has been reported to have problems restocking store shelves. While the retailer declined to comment today, in April a company spokeswoman dismissed the idea that there are any inventory issues at all and told Bloomberg News: "Our in-stock shelf availability is at historically high levels and averages between 90 percent and 95 percent."
It could be that Walmart, in an effort to manage its inventory, is waiting until closer to the holiday season to order Girlfriend and the other celebrity fragrances because that's when they sell best. But if that's the case, why not tell Elizabeth Arden? Its chief executive officer, E. Scott Beattie, said the drop in orders "was a surprise," and the fragrance maker is working to address the issue. Meanwhile, actor Mark Wahlberg has offered Bieber some advice about handling his nonperfume issues.