ITC Bans Samsung Imports. Your Move, Mr. Obama
by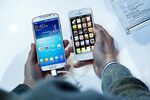 The International Trade Commission has ruled that Samsung violated several of Apple's patents for mobile devices and has issued a ban on some of the South Korean manufacturer's products. The ruling tips the scales in Apple's favor as the two companies continue to clash over intellectual property. The two companies were also in a federal appeals court on Friday discussing another dispute over features in Samsung's mobile devices that Apple said were "slavishly copied" from its creations.
It will be interesting to see what happens next, and not just because it's Apple and Samsung. To recap from my post this morning:
Less than a week ago the Obama administration vetoed the ITC's ban on the import of certain versions of the iPhone—the first veto of an ITC ruling since the Reagan administration. The White House said that because the patents in question were related to the basic functions of a device, Samsung was required to license them to Apple under reasonable terms, and argued that an import ban shouldn't be the result of the companies failing to reach a licensing agreement.
"The South Korean government interpreted the veto as protectionism. But patent experts cite the ITC as a major problem in the patent system because patent holders can seek import bans with a lower burden of proof than they'd face in a courtroom. The ITC's role in patent disputes has also drawn the attention of the White House for some time. The administration has asked Congress to make it harder for companies to win import bans in front of the commission and to make sure that the ITC is hiring qualified judges."
It was not a complete victory for Apple. The ITC said some of Samsung's products did not violate Apple's patents. Further, Friday's case is not a perfect analogue of the ruling that the administration recently reversed, largely because the patents in question are not related to the basic functions of a device. Still, it begs some sort of response. If the White House lets Friday's import restrictions stand, it could cause further conflict with South Korea. Another veto would signal an aggressive attempt to rein in the commission.
While the wrangling continues, Samsung will be allowed to continue importing the disputed devices. If it drags on long enough, the technology in question will be so out-of-date, no one but the lawyers will care.
Before it's here, it's on the Bloomberg Terminal.
LEARN MORE