Forget Flowers. A Mortician Breaks Into Sympathy Food
by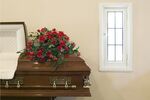 Americans will spend $8.1 billion at florists this year, according to researcher IBISWorld, giving startups like H.Bloom and The Bouqs good reason to target the industry. Twenty percent of florists' revenue comes from so-called sympathy flowers, which are sent to mourners or used for funeral services. Flowers may be touching, but food is more useful—only, how do you send a lasagna to an old friend who lives across the country?
Answering that question explains how longtime mortician David Storke got into the food business. In 1991, Storke followed his childhood dream of becoming a mortician and bought a funeral home in Bowling Green, Va. Along the way, he decided that "flowers are beautiful, but such a waste." To provide a more practical option, in 2008 he added a feature on his funeral home's website that allows users to have food delivered to mourning friends.
"For the first few years it was just a page on my site where folks could order a tray of meat or cheese or a fruit platter, and I would go to the store and buy it and deliver it to the family," he says.
But Storke's friends in the mortuary business liked the idea, so he started planning an expansion. Last April he launched a new company, the TLC Kitchen, which ships comfort food like pot roasts and turkey dinners for three kinds of occasions: funerals, injuries or illnesses, and births. Storke says the company shipped more than 2,000 meals in 2012, at prices that can top $150. (Meals can serve as many as 12 people and include side dishes and desserts.) This year he expects revenue to be in the "hundreds of thousands."
While the company is headquartered in Bowling Green, a town of 1,100 where Storke serves as mayor, the food is prepared in a commercial kitchen near Kansas City, Mo., helping him reach customers on the coasts. His sales strategy revolves around affiliates, such as funeral homes that get a 10 percent commission for sales that originate from their websites, or message boards for new moms.
Storke hopes to open kitchens across the country, cutting delivery times and costs. The move into food helps him solve an expansion riddle: "With a funeral home, unless you went out and killed more people, you can't increase your business," he says.
Before it's here, it's on the Bloomberg Terminal.
LEARN MORE