Cory Booker's Opponents Are Furious That He's a Good Candidate and They're Not
By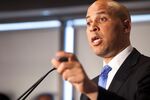 In the special election for the late U.S. Senator Frank Lautenberg's seat, Cory Booker, the ebullient mayor of Newark, has an enormous lead over his three opponents in the Democratic primary: state Assembly Speaker Sheila Oliver and U.S. representatives Frank Pallone and Rush Holt.
So what are Booker's rivals doing to distinguish themselves in the final days before the Aug. 13 primary election? They're complaining that Booker is making their lives difficult because he's such a skilled candidate. The New York Times captures their unintentionally comic pathos in a piece about the race on Friday. "It's the elephant in the room," said Holt. "Everybody's heard of Cory Booker. I needed to make the point that yes, but doesn't quality him for the Senate." Maybe not. But it helps. Holt, who had a successful career as a scientist before entering politics, can surely grasp that notion.
Pallone sounds bruised by Booker's assiduous efforts to point out that unlike two of his foes, he's not a member of Congress. "I resent the constant references by Mayor Booker to 'Congress can't get anything done,'" Pallone tells the Times. "There are people in Congress who have been able to get things done." Did Pallone, who's been in the House since 1988, really not anticipate that his part in the least productive Congress in memory might become an issue in the race?
Meanwhile, in July, Oliver lamented to the Philadelphia Inquirer that Booker is too well-liked. "I don't think becoming a senator is about being in a popularity contest," she said. Oliver is honest enough to admit that she's positioning herself to run for higher office in the future. As New Jersey's Star-Ledger notes, she has her eye on the seat of Representative Donald Payne, a Democrat who is thought to be thinking about running for mayor of Newark, Booker's current job.
Having multiple opponents only helps Booker. One might have had a chance. The three are just dividing up the paltry anti-Booker vote. Plus, name one candidate who ever pouted to victory.
After all, this is New Jersey, a Democratic state that elected Republican flamethrower Chris Christie governor. He didn't try to win over voters with a pleading slogan like, "Wouldn't it be nice to have at least one scientist in the United States Senate?"
No, that would be Rush Holt, who can't figure out why he's not the elephant in the room.
Before it's here, it's on the Bloomberg Terminal.
LEARN MORE