Calling on Muddy Spartans to Save Reebok
by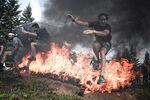 Adidas may have finally found a way to get some traction with Reebok, a brand that has stunk since the German sports giant bought it in 2006.
The fix doesn't involve a seven-figure celebrity endorsement or a massive marketing campaign aimed at yoga moms. It is built on the mud-streaked, six-pack abs of everyday fitness nuts—specifically the growing waves of weekend warriors signing up for obstacle-course endurance races.
Back in January, Adidas forked over an unspecified sum to make Reebok the title sponsor of the Spartan Race series, a particularly hard-boiled iteration of the genre. Think of fire, barbed wire, and other obstacles designed to test "mental and emotional fitness." The deal gives Reebok pole position among the 350,000 people who signed up for a Spartan Race last year and the 500,000 expected to slog through the mud this year.
Here's how Reebok's chief marketing officer, Matt O'Toole, explained the partnership when it was announced: "Reebok's mission is to change the way people perceive, experience and define fitness." In short, forget pilates and little sock-like sneakers—the people who buy Reebok are Greek warriors.
It looks as if all that marketing message and all of the mud was able to polish the brand. Reebok sales surged 11 percent in the recent quarter, according to an Adidas report on Thursday. What's more, the unit's profit margin stretched to almost 40 percent, a level not reached since Adidas bought the company.
The Spartan deal compliments a 2010 tie-up with CrossFit, a Washington-based company that sells licenses to gyms for its proprietary 20-minute workouts. CrossFit now has tournaments on ESPN and routines with names like "Nasty Girls" and "Bad Karma." Again, Reebok is veering far from its step-aerobics roots.
The repositioning was sorely overdue. Early last year, Reebok lost out to Nike on a lucrative contract to outfit the National Football League. That left the National Hockey League as Reebok's last blue chip sports affiliation, and that sport was frozen with labor negotiations for much of the past season. From 2006 to 2012, Reebok revenue skidded 13 percent to $2.2 billion, while overall Adidas's total sales surged 48 percent, to $14.9 billion, during that time. Adidas executives said throughout that they were committed to Reebok after paying $3.7 billion for the brand, but they might not have had a lot of options, given its slipping performance and size. Now, however, the company is working on a line of Spartan-specific gear for the fall.
"We are happy with the increase, there is no doubt about that," Adidas Chief Executive Officer Herbert Hainer told investors on a conference call. "But what I am even more happy about is that we definitely see that the Reebok brand is coming back into the mind of the retailer and consumer."
Meanwhile, the Spartan folks are lobbying to make obstacle-racing an Olympic sport.
Before it's here, it's on the Bloomberg Terminal.
LEARN MORE