Bain's Tough Interviews Get No Complaints From MBAs
Elizabeth Rowe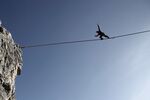 A job at Bain & Co. is considered one of the most coveted and prestigious spots for an MBA interested in consulting to land. Unsurprisingly, according to a new report by Glassdoor out today, Bain is also one of the 25 toughest places to interview.
Bain came in fifth in the ranking of companies with the most rigorous interviews, scoring a 3.7 out of 5, behind only McKinsey, ThoughtWorks, Boston Consulting Group, and Gartner. But according to the report, the experience of interviewing at Bain—while challenging—is considerably less demoralizing than at comparable companies. In fact, Bain was the only company on the list for which none of the survey respondents indicated they had had a negative interview experience. This compares with 12 percent of McKinsey and BCG interviewees surveyed who reportedly left their interviews unhappy. The survey asked respondents to rate the interview experience as positive, negative, or neutral.
"It reflects our culture," says Keith Bevans, global head of consultant recruiting for Bain. "We have a remarkably supportive culture at Bain, and I think that extends to the interview process. I'm not out to get you, I'm not out to quiz you. I'm out to have a conversation with you."
According to Bevans, Bain formulates its interview questions by asking interviewers to discuss a case they've worked on. He says that this allows the interviewee to think creatively and to have a less formulaic interview experience. "[This approach] makes it, frankly, a richer conversation," say Bevans.
Of the top five most difficult places to interview, Bain has the highest percentage of surveyed interviewees who rated their interview experience as positive. "In every situation, I think people leave feeling like they did a good job and had a good conversation," Bevans says. "We [the interviewers] want them to know that we're there to help them get through the interview."
His best advice for MBAs who want to work at Bain? "[The best candidates] listen to the question, they really take a second to understand what the underlying problems are, and they break the problem into rational parts. They're comfortable with the math. They understand when they've done enough to answer the question, and they're confident enough to make a recommendation based on that." Bevans adds, "It's OK to smile."
Join the discussion on the Bloomberg Businessweek Business School Forum, visit us on Facebook, and follow @BWbschools on Twitter.
Before it's here, it's on the Bloomberg Terminal.
LEARN MORE