A Wharton Professor's Search for Success
Francesca Di Meglio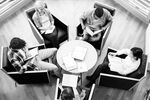 One of the secrets all MBA students harbor is that they don't really know what they want to be when they grow up—or graduate. "It's part of the MBA culture that everyone thinks everyone else knows exactly what they're doing," says G. Richard Shell, a legal studies and business ethics professor at the University of Pennsylvania's Wharton School.
Shell addresses the topic in the new book Springboard: Launching Your Personal Search for Success (Portfolio Hardcover), set for release on Aug. 15. The book is modeled after a course Shell has been teaching at Wharton since 2005, called The Literature of Success. The course explores the history, literature, and philosophy behind two questions: "What does it mean to be successful?" and "How does one achieve this elusive goal?"
Shell came up with the idea for a course on the topic after his own personal journey had him learning about success in a roundabout way. The book's introduction reveals the long, winding road he took to becoming a professor. It included painting houses, facing hepatitis in Afghanistan, meditation and possible monkhood, and reconnecting with his parents and a lost love after an estrangement. "Understanding your own story is a powerful way to think about the future," Shell says. "It becomes about the next chapter in your story and not the next rung on the ladder that others expect you to climb."
Based on his experiences in the classroom, Shell knew the book would resonate with B-school students facing a transition in their lives. But he wasn't sure exactly how closely they would relate to the topic until one of his students got wind of what he was working on and asked if she could help. What resulted was a book club, of sorts, with about 20 students meeting regularly to discuss each chapter and then offering Shell feedback. "It's a wonderful experience for a professor in business school to partner with students on a book," he says.
Caitlyn Fox, a second-year MBA at Wharton, was one of the students who took part in the book club. She says it helped her just to know that someone as successful as Shell didn't have his life figured out at 25. "The MBA program in general, as I describe it to friends, is very self-reflective," she says. "But there is very little talk of values and how to determine what your dream job is and your definition of happiness beyond the dream job."
With the success of the impromptu book club, Wharton will offer a similar workshop beginning in the fall, called P3 (Purpose, Passion, Principles). It will be organized by Shell but led by second-year MBAs. The book will serve as a guide for the workshop, and discussions will also include various readings from Wharton professors and works of literature suggested by the students. Shell expects about 40 students to sign up for the workshop. "My hope," he says, "is that [the workshops] will take on a constructive life of their own."
Join the discussion on the Bloomberg Businessweek Business School Forum, visit us on Facebook, and follow @BWbschools on Twitter.