What's E*Trade Doing With Its Customers' Orders Anyway?
by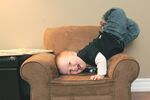 Buried in an otherwise mundane regulatory report that E*Trade Financial filed on Tuesday, all the way down on page 98, was an interesting bit of news: The Financial Regulatory Authority (Finra) is investigating the discount brokerage for how it prices and routes its customers' stock orders. Specifically, Finra is examining the orders that E*trade effectively sends to itself. First, a primer on how this works:
Like all the other discount brokerages, E*Trade sends its customers' buy and sell orders to large wholesale brokerages known as market makers. These firms help ensure that stock trading runs smoothly by simultaneously buying and selling shares as orders come in. Market makers pay the discount brokerages for sending them their customers' orders, usually fractions of a penny per share. They then fill them internally, using computers to match buy and sell orders rather than paying public exchanges to execute the trades for them. While there are hundreds of market-making firms, a handful of the biggest ones (Knight Capital, UBS, Citadel, and Citigroup) capture the majority of retail orders entered into the market.
In 2001, E*Trade decided to get into the market-making business itself and paid $173 million for an electronic matching facility it later renamed G1 Execution. Now E*Trade sends the biggest share of its orders to G1. As of the second quater of 2013, 28 percent of E*Trade's nondirected orders were routed to G1. A nondirect order means the broker gets to decide where to send it. These order types make up 97 percent of all E*Trade's order flow. E*Trade sends G1 41 percent of its market orders, which are filled immediately as opposed to at a specified price.
The question that Finra seems to be trying to answer is whether E*Trade's customers get the best prices on G1 and how E*Trade decides which ones to send there. While discount brokerages route varying percentages of their orders to different market makers, they're supposed to do so based on where they can get the best price. Under Securities and Exchange Commission rules, brokers are required to execute customers' trades at the best available price, no matter where that is.
Last year, former E*Trade board member Kenneth Griffin, the chief executive of Citadel, publicly questioned whether E*Trade was truly getting the best prices for its customers by sending flow to G1. Griffin has since resigned from the E*Trade board and sold the 9.6 percent stake Citadel took in E*Trade in November 2007, staving off what would likely have been a bankruptcy filing by the discount brokerage. E*Trade sends only 10 percent of its nondirect orders to Citadel.
Since Griffin complained last year, E*Trade says it has completed a review of how it sends order flow to G1 and that, as a result, it's "in the process of implementing changes to its practices and procedures." It's also in the process of selling G1. During a conference call last month, E*Trade Chief Financial Officer Matthew Audette said that the decision to sell G1 was based on "operational and regulatory" risks.
In Tuesday's regulatory filing, E*Trade reported that Finra notified it on July 11 that it was examining its routing practices. E*Trade also warned shareholders that regulators were updated during its internal review last year and that, as a result, authorities may initiate investigations that could result in fines and cease-and-desist orders. E*Trade did not reply to a request for comment.
Finra's most recent probe counts as the 29th regulatory action taken against E*Trade. According to Finra's brokercheck database, E*Trade has been cited for 28 regulatory violations in connection with its G1 unit and paid out $35 million in fines. Most of that came as a result of a 2009 civil action filed by the SEC alleging that E*Trade failed to meet its basic obligations by trading ahead of customer orders filled on the Chicago Stock Exchange. As a result, E*Trade paid $33.9 million in fines.
No matter what comes of this most recent investigation, the mere suggestion of impropriety is enough to give retail investors another reason to despair, says David Weiss, a senior market analyst with Aite Group. "In a way this should almost be the least of their worries," says Weiss. "If you're investing in U.S. stocks via any retail account, you're already at a disadvantage. You have to wonder whether it's really investing at all or if [you're] just getting gamed at most every step of the way."
Before it's here, it's on the Bloomberg Terminal.
LEARN MORE