Virgin America's Birthday Wish: Enough Profit for an IPO
by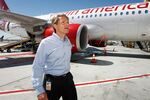 Virgin America's first flight was six years ago today, and it marked the start of a financial paradox for the airline: Passengers love its hip ethos and service quality, yet not enough to make the carrier profitable for more than a handful of months.
The company, partially owned by Richard Branson's Virgin Group, reported a rare net income of $8.8 million this week—only the second quarter of black ink it has been able to manage amid years of torrid growth. Behind the stronger earnings is the debt restructuring Virgin America undertook this spring to cut its load by some $290 million, which the company expects to trim quarterly interest expenses to about $10 million. The quarterly profit also revived discussion of the airline's plans for an eventual initial public offering.
Part of what is helping results was new service launched in April from Newark, a hub for United Airlines, with flights to San Francisco and Los Angeles. But perhaps even more central to the profit and the potential sale of shares is Virgin America's crucial decision to scale back after years of expansion, including its delay in taking on new Airbus jets until the second half of 2015. From 2010 to 2012, the airline roughly doubled the size of its fleet, reaching 53 planes in all. This plane-buying hiatus is expected to make Virgin America more adept at keeping a lid on costs and wringing revenue growth from its existing network, serving business centers in New York, Los Angeles, San Francisco, Seattle, Newark, and Washington, D.C. Over the past year, for example, the airline reported hiring only 10 new employees. "They just expanded too quickly," says Michael Boyd, chairman of BoydGroup International, an aviation consultancy. "Their problem was a cost problem, and they've fixed it."
Virgin America Chief Executive David Cush, a former sales executive at AMR's American Airlines, has long said that his company would go public. The onus has been on his team to show that the company—which scores among the world's highest-ranked airlines in on-board amenities and service quality—can translate customer affection into a consistently profitable enterprise. One issue will be how much of a track record the airline needs to show investors it can withstand its larger competitors, including a merged, restructured American and a new premium cabin that JetBlue Airways will start flying next year on the same coast-to-coast flights as Virgin America. This week Cush told the Wall Street Journal that his airline doesn't need to report "several years of profitability" to stage a successful IPO.
Boyd, for his part, thinks three to five quarters would do it. "Then people are going to calm down, and people are going to say they're safe," the analyst added. "They're off the beachhead."
Before it's here, it's on the Bloomberg Terminal.
LEARN MORE