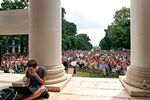 In the latest and most high-profile example of a growing shift in college aid away from low-income students, the University of Virginia is cutting back on grants it gives to poor students, according to the Washington Post. For almost a decade, the school, through its AccessUVa program, vowed to cover a student's full need if her family's income was less than twice the poverty level (in 2013, $47,100 for a family of four). AccessUVa mostly awarded grants, though recently it added work-study as well. Now the school will be reducing grants and asking students to take out as much as $28,000 in loans over four years to replace them. (The cap will be $14,000 for in-state students.)
Virginia is doing this because the costs of the AccessUVa have grown from $11.5 million in the 2004-05 school year to $40 million this year, the Post says. It got so much bigger because of two factors: UVa enrolls more students—and it's gotten more expensive. A new in-state undergrad will pay more than $26,000 for the 2013-14 school year; an out-of-state student will pay around $54,000. Encouraging loans will let UVA decrease the amount of grants it makes, but it doesn't address the rising tuition costs more broadly.
Increasingly, schools are pulling back on grants to those most in need. Last month, I crunched some numbers from Sallie Mae and found that school scholarships are awarded to wealthy and low-income students in roughly the same proportions, and the wealthy students received about $3,000 more, on average, than the poorer students. And in May, a report by the New America Foundation found that schools are favoring so-called merit-based grants over need-based support, even though the students receiving merit aid aren't necessarily better students. New America says colleges do this in pursuit of "prestige and revenue." As it explained, "it's more profitable for schools to provide four scholarships of $5,000 each to induce affluent students who will be able to pay the balance than it is to provide a single $20,000 grant to one low-income student."
That same report called UVA's aid for low-income students "extremely generous," yet the school was still "one of the least socio-economically diverse public colleges in the country." It's hard to imagine that the shift toward loans will help.
Before it's here, it's on the Bloomberg Terminal.
LEARN MORE