The Ex-Wife of Glock's Founder Hits the Bullseye in Their Divorce Battle
Paul M. Barrett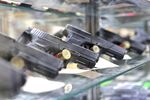 As your one-stop-shopping site for news about the world's most intriguing firearm manufacturer, we've got an important update on the Glock v. Glock divorce case in Austria. In brief: Score one for Helga Glock, ex-wife of Gaston Glock, the founder of Glock GmbH, which manufactures the eponymous semiautomatic pistol favored by cops, rappers, and Hollywood directors.
The Glock divorce proceedings concern hundreds of millions of dollars in firearm fortune and a dispute over stewardship of the family-owned gun empire. You can catch up with the background here. Today, Boris Groendahl of the Bloomberg News bureau in Vienna has this dispatch:
The ex-wife of Austrian gun maker Gaston Glock is entitled to alimony from her ex-husband regardless of her own wealth, Austria's highest court ruled. Helga Glock may now receive an allowance based on her former husband's income, which will have to be determined in a new proceeding, Christoph Brenn, a spokesman for the Vienna-based court, said by phone today. The verdict, made July 3 and delivered to the parties this week, overturns rulings by two lower courts in southern Austria, Brenn said.
"The plaintiff had demanded alimony from her husband, who objected that she has such a high income herself that she can cover her cost of living," Brenn said. "The court rejected that and ruled that the alimony has to be calculated the same way as for lower incomes because the spouse that was innocently divorced is entitled to share the wealth of the other spouse."
The verdict is the latest instance in a bitter feud between 84-year-old Gaston Glock, the Austrian inventor of the handgun used by two-thirds of U.S. police departments, and his wife of 49 years until they divorced in 2011. A separate case in which Helga is seeking to regain a significant stake in Glock GmbH is still pending at the highest court in Austria.
Apart from the timeless appeal of a story about a first wife seeking her share after the family patriarch remarries his former nurse, a much younger woman, the Glock divorce tale has huge potential corporate significance. One of these days, Gaston Glock, a true titan of the gun industry, must surrender control of his company—either by his own choice, or as a result of meeting his ultimate reward. Secretive by nature, Glock has not hinted publicly at his intentions. Any number of private equity investors and/or industrial corporations might be interested in augmenting their portfolios with the iconic Glock brand, not to mention its highly efficient manufacturing operations.
The divorce case could help determine whether the former Mrs. Glock, 77, and her three adult children will play a significant role in the company's uncertain future.
Before it's here, it's on the Bloomberg Terminal.
LEARN MORE