Put Down Your Smartphones and Enjoy the Show
Lively is a new app that lets musicians sell fans high-quality audio and video recordings of live concerts
by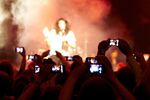 Last December, at an arena concert in Seattle, Dean Graziano looked around and saw hundreds of audience members holding up smartphones to record the show. "I thought to myself, there's got to be a better way," says the serial tech entrepreneur and longtime music buff. "The fans want to capture this experience, and right now all they have is phones. That makes for pretty horrible quality, it can be pretty annoying to the band and to other people around you, and it's actually pirating."
The next day, Graziano called a couple of his app developer friends and a sound engineer. Together, they came up with Lively, an app that lets musicians (and Lively) sell fans high-quality audio from live concerts for $4.99, or both audio and video for $9.99.
Musicians who want to use Lively need three things: a Mac laptop or iPad, an iOS interface, and Lively's audio manager software, which they can download for free. They plug the Mac or iPad into the interface device, which is then plugged directly into the concert venue's sound system. The audio manager software lets the artists do such things as add song names by uploading set lists or exclude songs they don't want made public because of copyright or quality issues.
At "Lively-enabled" concerts—roughly a dozen so far—fans who have downloaded the free Lively smartphone app for iPhones or Androids can then purchase the live recordings. "During the encore, when your ears are ringing and you're feeling good, we push you an offer through the app," says Graziano. "Your phone lights up and says, 'Hey, are you enjoying the … show? Would you like to buy the audio for $4.99, or the audio and video for $9.99?'" If they click "Yes," the audio gets downloaded onto their phones directly after the show. Video becomes available within 24 hours, once Lively's videographers have edited the concert footage.
To maintain a bit of the bootleg appeal, Lively initially makes downloads available only to actual concert goers. "It's kind of an ego thing to say, you know, I was at that show," says Graziano, who explains that the Lively app tracks people via GPS to make sure they're physically present at a specific venue. Adds Joseph Aldulaimi, who represents artists at Framework Music Management: "A Lively set is arguably the best souvenir a fan can leave a show with."
Later on, fans—or the artists—can post the recordings on Facebook and Twitter, making them available for purchase to their social networks. "Your friends like the same music you do; that's why they're your friends," says Graziano.
Since launching in May, 4,000 people have downloaded Lively, says Graziano. The fledgling company—which has raised only a couple hundred thousand dollars to date and is in the process of a seed funding round—has signed up 20 artists and bands, mostly indie acts such as Damien Jurado and The Lonely Forest. "For the artists, especially indie artists, that exposure—the ability to do a show in Seattle but get somebody in L.A. or wherever else to see it and potentially buy it—it's huge for them," says Graziano.
Not that the musicians keep all the money. Apple and Android get a 30 percent cut to cover the in-app purchase fee, and Lively gets 21 percent. The musicians keep 49 percent, but must further share their profits, depending on copyright and contract provisions. In some cases, venues may also ask for a cut. The artists and bands do, however, maintain all rights to the material.
Lively isn't alone in trying to cash in on live concerts, which make up a large chunk of revenue for many musicians, especially jazz and rock musicians. But most others, such as Evntlive and Concert Window, have focused on live streaming that lets fans watch concerts while hanging out at home in their pajamas. The drawback of live streaming, says Graziano, is that it's expensive. "They're not going to be streaming the indie bands, they're going to be live streaming Lady Gaga."
As of now, Lively downloads are only available as MP3s and cannot be synced with iTunes. The reason: Lively—and presumably musicians and labels—hope to reduce unauthorized sharing. But Graziano says there's still room for change. "I can understand that someone might say, 'I want to download it onto a playlist and listen to it while I go running,'" he says. "We may open it up down the road, but it's easier to start closed and then maybe open it, instead of the other way around."
Before it's here, it's on the Bloomberg Terminal.
LEARN MORE