New York Road Runners' Mary Wittenberg on NYC Marathon Planning
"Our hearts are still very much with Boston, and that inspires us. But security? Safety and security have always been our primary concern"
by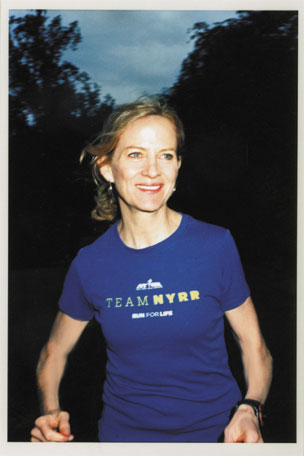 On a rainy morning in Central Park, the runner in charge of the ING New York City Marathon goes for a jog with our intrepid economics correspondent.
How does your life now compare to your past life?
I was a corporate lawyer doing cross-border finance deals. The biggest difference is being in a mission-driven organization. Our whole reason for being is to inspire people through running.
Where do you want to stretch?
On the stairs. I use my legal and corporate background all the time, whether it's doing a partnership deal, a sponsorship deal, or a lease. See, it's so funny. It'll be packed, and the slightest bit of rain …
Scares people away.
It's really interesting.
The New York Road Runners club grew out of a traditional running club, but it's much more than that now.
When New York Road Runners began in 1958, there were a handful of serious running white guys. And today, running is a cultural phenomenon. It's a not-for-profit equivalent of some startups. It's a movement. It's not a company.
Respond to people who say, ugh, they'd love to run, they just don't have time.
The key is getting people hooked. It's hard to get started. But the beauty of running is that you can always fit it in. I always say: "You deserve to give yourself that 30 minutes. And it's worth giving up 30 minutes of sleep in many cases."
I just came back from London. And one thing that struck me is how many people jog to and from work. You don't see that as much in New York.
It's been a striking change in London. I think we can have that. One thing we are looking at is, how do we have mile and half-mile markers all over? Starting with parks. That helps people think: "Oh, I walked a half-mile."
Last fall with Sandy: That was a difficult time. And you guys wanted to put on the marathon, and then at the last minute decided not to.
We did our best in an unprecedented situation. Our intention was trying to do what was best for New York and New York City. And I definitely wish we all knew a lot more. If we knew earlier in the week what we knew by the end of the week …
You mean about logistics and generators and things like that?
No. Much more about what the city needed. Within a few days things looked a lot different than they looked in those early days. Clearly we wish it had never gone down that path and that we had known that things were going to get worse. I sure wish we could replay it and know what we know now and have the foresight to say, "This isn't the time. It can't be done."
Are there businesspeople that you model yourself after?
In our industry, I think Scott Blackmun at the USOC [U.S. Olympic Committee] and Larry Probst, his president, are doing a really great job.
Are there people on the corporate scene?
Marissa Mayer at Yahoo! What I like is her focus. I admire Sheryl Sandberg. She didn't need to put herself out there the way she did with her book. But she's trying to help other women. And she brought business to Facebook in a way that tried to support its authenticity.
I watch Howard Schultz [of Starbucks] and his long-term passion. I think Reed Hastings at Netflix did a great job with saying: "OK, we got this wrong." And that's our example. I feel like the marathon, we got that wrong. In total, it was wrong.
Talk about security precautions in light of the Boston Marathon.
Our hearts are still very much with Boston, and that inspires us. But security? Safety and security have always been our primary concern. This is one of those 9/11 moments, where it goes to another level of studying everything you can possibly learn. We work very closely with NYPD. And we already have begun planning. There'll be a lot you won't see. But you'll see even more security come marathon Sunday this year.

Before it's here, it's on the Bloomberg Terminal.
LEARN MORE