Fox's New Golf Deal and the 'Sports Cable Bubble'
Are these prices crazy or just crazy profitable?
By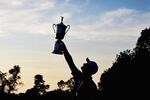 Yesterday the United States Golf Association (USGA) announced that it had agreed to a 12-year deal with Fox Sports to carry the U.S. Open, which marks the network's entry into golf broadcasting and represents another volley in its bid to topple ESPN as cable's king of sports. (While the yearly major doesn't draw as many viewers as, say, its NBA competition, the tournament fills long hours of programming and reaches a valuable demographic: old guys with money.) Beginning in 2015, Fox will split Open coverage between its broadcast network and its new cable channel Fox Sports 1.
The USGA is not disclosing financial terms, but according to the New York Times, Fox will pay "at least double" the combined $37 million annual fee currently paid by NBC and ESPN. That fat hike would put the deal on par with other recent rights-fee deals in other major sports, such as tennis, baseball, football, soccer, Nascar, and just about any programming that features live competition without B-list celebrity judges.
The rampant escalation has driven a lot of talk about a potential "sports cable bubble," as skeptics see the rising fees as part of a cable cartel that will eventually collapse. Sports viewership is not increasing at nearly as fast a rate as rights fees. What is growing is the price of cable. And even that is not keeping up with fee increases. So the boost in revenue comes from the pockets of cable viewers who don't watch the games and from the narrowing profit margins of carriers. These two groups, the bubble argument goes, will eventually revolt or just walk away.
In July, Patrick Hruby of Sports on Earth summarized the situation and came to this conclusion:
"The Sports Cable Bubble will pop. It has to. Just do the math. Fifty-seven million cable and satellite subscribers who don't care about Dwight Howard's decision or Yasiel Puig as the baseball reincarnation of Bo Jackson currently pay at least $100 per person into television sports kitty, each and every year. Someday they won't have to."
Ten days later, John Ourand of SportsBusiness Journal pooh-poohed this notion:
"That talk is dead wrong, according to a super majority of my best sources. These executives believe the sports media industry is no closer to a bursting bubble than it was in 1993, when talk of a sports rights bubble first emerged."
Most of the latest rights deals, Ourand notes, extend for a decade or more. So if the bubble is going to pop, it probably won't be any time soon. And the strength of sports viewers, he argues, lies not so much in their numbers as in their passion. That is what advertisers prize and what carriers fear provoking. Ourand stops short, however, of predicting that the current trajectory will continue. The market, he writes, "will remain vibrant for a long time."
Ultimately, both sides can be right. The difference is mostly a matter of emphasis. The spike in fees obviously cannot go on forever. We may never see à la carte pricing for cable, but pressure from carriers and viewers will probably bring smaller, more affordable bundles. Cord cutters and "cord-nevers" will eventually erode cable's customer base. New ways of watching and paying for sports will take hold. Leagues and programmers probably can't replace all the lost revenue from the nonfans currently paying into the system, but price increases for the rest should forestall the apocalypse. With the relatively few number of players currently in the market—a dozen or so major sports properties selling to a half-dozen major programmers—the bubble probably won't pop so much as stop growing and float away.
Before it's here, it's on the Bloomberg Terminal.
LEARN MORE