Fannie Mae Makes It Rain for Obama
By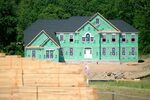 Fannie Mae said this morning that its second-quarter profit nearly doubled, to $10.1 billion, as home prices surged and more consumers made good on their mortgage payments.
The federal government will collect every cent of that profit, per Fannie's strange griffin-like status—it has the head of an Uncle Sam eagle and the body of a private-sector lion. The government will also get a $4.4 billion contribution from yesterday's big earnings win by Freddie Mac, Fannie's corporate cousin.
So how much is $10 billion to the U.S. government? Only two companies in the S&P 500-stock index had more than $3 billion in income-tax expenses in the recent quarter: Exxon-Mobil, which took a $5.8 billion hit on taxes, and Chevron, which had a $3.2 billion tax charge, according to an analysis of Bloomberg data. Six U.S. companies had income taxes ranging from $2 billion to $3 billion, including Wells Fargo ($2.9b), JPMorgan ($2.8b), Apple, ($2.5b), Berkshire Hathaway, ($2.3b), Citigroup ($2.1b), and Wal-Mart ($2b).
In other words, the Fannie haul is way more valuable to government coffers than that from many of the top corporate taxpayers combined.
This kind of loot is going to complicate President Obama's goal—stated clearly yesterday—to wind down Fannie Mae and Freddie Mac. "We've got to turn the page on this kind of bubble-and-bust mentality that helped to create this mess in the first place," Obama said.
However, lawmakers—even ones scandalized by the government backstopping mortgages in 2008—may be hesitant to back Obama's real estate policy play with everything looking so peachy. Serious mortgage delinquencies have dropped to their lowest level in five years. Only 5.9 percent of home loans are more than 90 days late, down from 7.3 percent a year ago, the Mortgage Bankers Association said in a report today. Fannie's delinquency rate has dropped below 3 percent.
Meanwhile, the private sector is being a little more aggressive about foreclosures, with fast-rising home prices providing incentive to boot delinquent owners and search for new buyers. Repossessions jumped 11 percent in May, as lenders took back almost 40,000 homes, according to RealtyTrac, a California-based data firm.
Fannie's message this morning to Washington and Wall Street was simple: "We expect to remain profitable for the foreseeable future."
Before it's here, it's on the Bloomberg Terminal.
LEARN MORE