Elon Musk Just May Have to Develop an Electric Supersonic Jet
by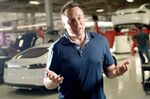 Elon Musk, the founder of Tesla Motors and Space Exploration Technologies, said today he may someday work to develop a supersonic, all-electric jet that could take off and land vertically.
"I wish somebody would do that," Musk said during a video chat with entrepreneurs that was streamed on YouTube. "If somebody doesn't do that, maybe at some point in the future, I will."
At supersonic speeds, an aircraft could go from London to Shanghai in about seven and a half hours. That compares with more than 11 hours for a nonstop commercial flight.
An electric plane would have major environmental benefits, in addition to being quiet and fast, Musk said. Because Musk's super plane wouldn't require a long runway to take off or land, airports could be smaller, allowing them to be built closer to popular destinations.
Frequent flyers shouldn't worry about having trouble sleeping on the long haul. At high enough altitudes, such a plane would create a sonic boom no louder than current aircrafts if designed correctly, Musk said.
During the video chat, Musk was seated in a high-backed gray velvet chair. He was joined by Virgin Group founder Richard Branson, who's also a noted fan of air and space travel.
Don't expect the electric supersonic plane to be ready for takeoff in the near future. Musk said he currently has his hands full with Tesla and SpaceX, and is not looking to start another company "anytime soon." If he does, it would be to create the supersonic aircraft, which he described as "sort of the ultimate form of transport."
Then again, Musk has the Hyperloop , another pet project for human transport. He plans to release a draft plan for the technology on Monday. He hopes others will improve upon and commercialize that product, too.
Before it's here, it's on the Bloomberg Terminal.
LEARN MORE