Cruise Ships Get Crime Blotters of Their Very Own
by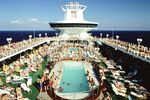 The largest U.S. cruise lines are now making public the crimes alleged to have occurred aboard their ships, ranging from rape to theft to homicide—think Law & Order: High Seas.
The quarterly crime figures are at odds with the tranquil seafaring paradise promised in marketing imagery, and call to mind the recent run of high-profile mishaps—fires, power outages, a submerged vessel—that has marred the industry. But company officials argue that the cruise crime blotters prove just how safe their ships really are.
"I think, conceptually, it's there to inform prospective guests about the … lack of security risks on board our ships," says Gary Bald, head of security for Royal Caribbean Cruises and a former FBI agent. His company reported allegations of four thefts and two rapes in the three-month period ended June 30. "For some time, there's been this contention by a cruise-victims group that crime is really, really extensive on cruise ships. And it just isn't, based on my experience here."
The largest cruise ship company, Carnival, disclosed eight alleged incidents of rape or sexual assault, with accusations made against six passengers and two crew members. The company also reported one alleged theft over $10,000 and a suspicious death of a passenger. Over the three months, Carnival notes, it carried nearly 6.7 million passengers and more than 48,000 crew on its four North American lines—an overall crime rate that would be the envy of even remarkably safe big cities like New York. "Very few crimes happen on board our ships, especially when you compare it to the crime rates on land," spokesman Roger Frizzell wrote in an e-mail.
The cruise lines have agreed to share data on alleged crimes, a distinction from U.S. Coast Guard reports reflecting only criminal cases closed by the FBI. Other categories included in the companies' self-reported crime data include missing U.S. citizens, kidnapping, and tampering with or setting fire to a ship. Since 2011, Norwegian Cruise Line Holding, Royal Caribbean, and Carnival have recorded 247 serious criminal allegations, according to the Miami Herald.
Based on the latest numbers, there's little chance any of the major lines can claim to be safer than its rivals. The three large Miami-based companies published crime data nearly simultaneously on Aug. 1, part of an effort announced last month at a Senate hearing as cruise line executives sought to limit future federal regulations. For the most part, crime allegations track at similar rates among the lines. Although it's worth noting that Norwegian (365,000 passengers) and Royal Caribbean (835,000 passengers) carried a fraction of the total aboard Carnival ships in the quarter. Disney Cruise Line, with just four ships, reported four alleged rapes and sexual assaults.
Will reporting such data make cruising—where ample bars and a party atmosphere can lead to overindulgence—any safer? "Honestly, I don't think it's going to have any effect on safety," says Carol Finklehoffe, a Miami lawyer who specializes in cruise ship litigation. "I believe it's more of a marketing ploy to deflect bad publicity and for the cruise lines to project themselves as saying, 'Look what a great job we're doing.'"
Before it's here, it's on the Bloomberg Terminal.
LEARN MORE