China's Surprisingly Healthy Trade Numbers
by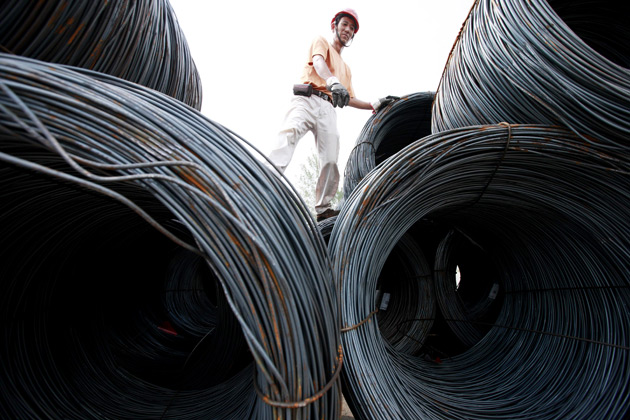 There was some good news for the global economy today, with China reporting surprisingly strong trade numbers. Both exports and imports rose more than most economists had expected, the Chinese government reported. The world bought 5.1 percent more Made in China products than a year earlier, much better than the median estimate for export growth of 2 percent. And Chinese are buying more from the rest of the world: After two months of negative growth, imports rebounded sharply, up 10.9 percent.
The results "should at the very least provide some relief for those with concerns about China's recent sharp growth deceleration," HSBC economists Sun Junwei and Qu Hongbin wrote in a report published after the announcement of the trade figures. Dariusz Kowalczyk, senior economist at Crédit Agricole CIB in Hong Kong, went even further. "We'd like to call the end to worries over China for this year," he said in an e-mail to Bloomberg News.
Keep in mind the usual caveats: Chinese data are not the most reliable. The country's economy at this time last year was struggling, so a low-base effect could be boosting the July numbers. While the trade figures are good, they're just one month's worth of data, and they come after several sluggish months. Exports grew just 1 percent in May and fell 3.1 percent in June, for instance. Imports were down 0.3 percent in May and 0.7 percent in June.
The HSBC economists point to some other reasons to be cautious. For instance, South Korea and Taiwan, two of China's largest trading partners, are still sluggish, and other emerging markets are struggling, too. The developing world now accounts for more than two-thirds of China's total trade, compared with 54 percent in 2008.
Still, the trade numbers do indicate that the Chinese government's measures to boost the economy, such as tax breaks and infrastructure spending, are starting to pay off. "We are seeing a recovery that is not marvelous but it is going places," Uwe Parpart, executive managing director and chief strategist of Reorient Financial Markets, said on Bloomberg TV.
Before it's here, it's on the Bloomberg Terminal.
LEARN MORE